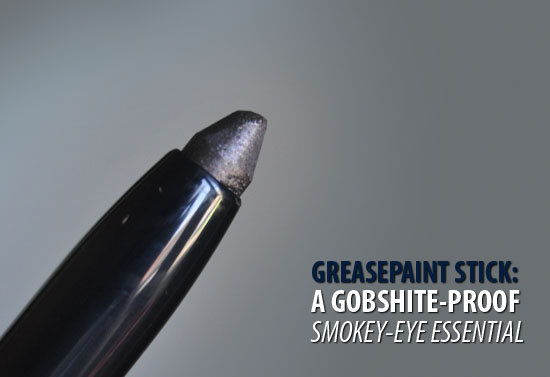 Greasepaint sticks are part of the Mac Art Supplies line (which also features some amazing lipstains which I promise to blog about soon) and are on counter now. Limited edition, so get thee to a store with the quickness, because if you're a bit of an eejit when it comes to th'auld smokey eye, you won't be after using one of these bad boys.
I got Dirty to test. Described as a blackened taupe with pearl, this is a deep, minky-grey and it is absolutely beautiful. Soft as butter, deeply pigmented and a cinch to use, if you drew this halfway up the eyelid and along the bottom lash line and then quickly (it sets!) smudged both edges out with a finger, you'd have an instant smokey eye. Yep, as simple as that. Sure, you could fancy it up and blend with brushes and add extra definition in the crease with a darker shade, but for the sake of simplicity, this will do the job all on its own.
It'll also be good as a base for powder shadow in a  similar shades or carefully applied as a liner, as it promises to be transfer- and water-resistent, as well as long-lasting. €19 a pop is the damage, and it also comes in Greengrease (blackened forest green), Zinc Zone ( dark gunmetal), Slick Black (carbon black), Brown, Now (blackened burgundy), Below Ground (blackened bronze) and Uniformly Blue (blackened navy).
A swatch of Dirty is after the cut.
Advertised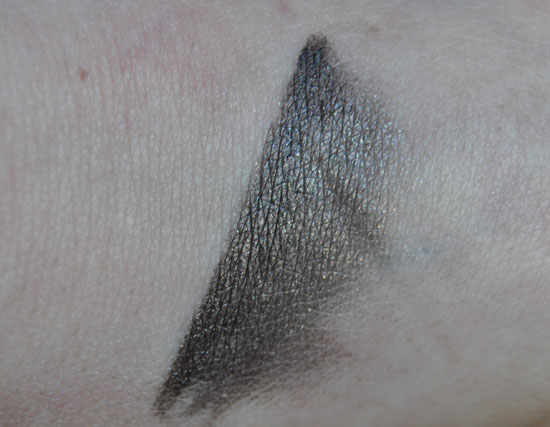 I appear to have some weird crease on my hand in the pic above. Odd! Anyway, this is Dirty as it appears on my ghostly flesh.
I've applied it in a thicker line to the left and blended it out with my finger to the right, so you can see how it spreads on the skin - excellently, I might add.