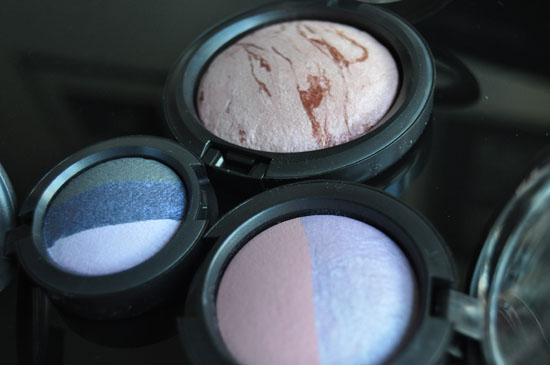 Landing in July is Into the Groove from Mac, a pretty large collection of baked mineralized shades in blush, shadow and Skinfinishes that's complemented by some bright - and unusual - lip colours. Pretty much defined by vivid but wearable shades, there's a lot in here to like.  I got Mineralize Eyeshadow in Togetherness, Mineralize Blush in Hang Loose and Mineralize Skinfinish in Petticoat to try.
Of the three, it's the shadows I'm most taken with. I really love Mac's Mineralize Skinfinishes but Petticoat is just too warm and rosy-gold for my pale skin. I'd look C3PO'd with it on - but it could well be a goer with a tan, plus it's perfect for a darker or more sallow tone, delivering a really glimmering, pretty finish.
The blush is interesting - the pink side is more or less a very slightly satiny matte, with the lilac side being a fair bit more pearlised. Swirl both together and you get a cool-toned shimmery blush that I've yet to work into a look - but hey, just give me time. Potentially, it may be a bit too cool for me - I do like bright, warm cheek colours.
My fave of the trio is Togetherness, the Mineralize Eyeshadow. Want to see an up-close shot and a swatch? Those, and a full product line-up are after the cut.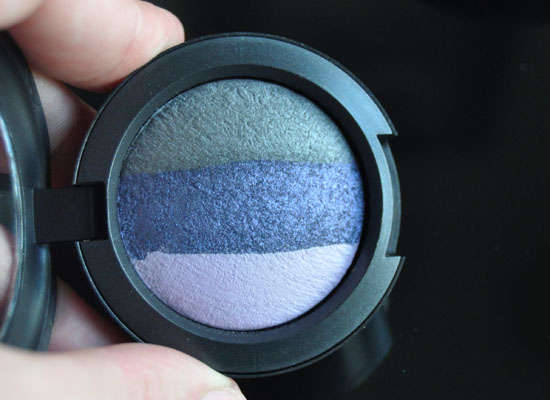 Pretty, eh?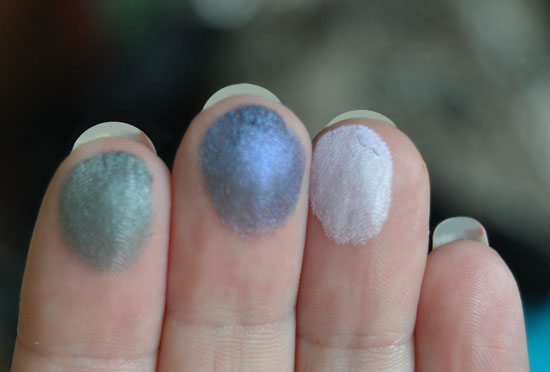 Pigmentation is decent, the colours are good and really wearable - the purple's the stand out here: slightly metallic and a little iridescent, it's gorgeous, and will make for a really beautiful smokey, dramatic eye.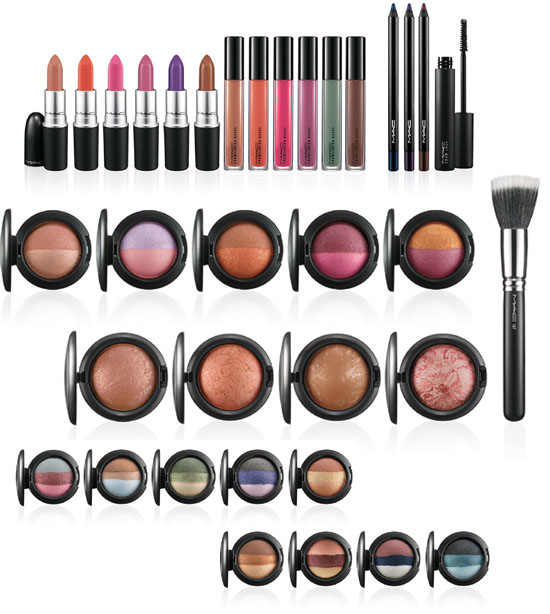 Here's the full collection:
Lipstick (Cremesheen), €17.50
Advertised
Call My Bluff Mid-tone creamy coffee*
Jazzed Bright coral pink*
Creme d'Nude Pale muted peach beige
I Like It Like That Deep blue pink*
All Styled Up Bright yellow pink*
Go For It Mid-tone blue purple*
Cremesheen Glass*, €20
On the Scene Light coral beige
You've Got It Dirty silver grey
Going Casual Sheer lilac
Fashion Whim Light beige
Right Image Mid-tone blue pink
Chillin' Light white blue
Mineralize Eye Shadow (Trio)*, €20.50
Love to Love Satin beige/Pearly bronze/Satin brown
In the Groove Satin green/Pearly burgundy/Satin coral
Making It Easy Satin red brown/Pearly beige rose/ Satin dark beige
Togetherness Satin lavender/Pearly purple/Satin grey
Style Influencer Satin silver/Pearly deep blue/ Satin mauve brown
Soften the Mood Satin light brown/Pearly rose/ Satin light blue
Fresh & Easy Satin pink/Pearly burgundy/Satin grey
Calm, Cool & Collected Satin deep green/ Pearly green/Satin beige
Blue My Mind Satin light blue/Pearly deep teal/ Satin black
Powerpoint Eye Pencil, €17.50
Stubborn Brown Deep rich brown
Permaplum Deeply plum with pink shimmer
Navy Stain Royal blue with shimmer
Zoom Lash Mascara Zoomblack Rich black, €16.50
Mineralize Blush (Duo)*, €24.50
Happy Together Satin caramel/Pearly beige
A Little Bit of Sunshine Satin light brown/Pearly beige
Hang Loose Satin bright pink/Pearly lavender
Band of Roses Satin blue pink/Pearly light plum
New Vibe Satin deep rose/Pearly bronze
Mineralize Skinfinish*, €28
By Candlelight Golden pink
Stereo Rose Coral with golden bronze shimmering nuances
Comfort Golden bronze
Petticoat Pale rose with gold and amber veining
Advertised
Brush 187 Duo Fibre Face A large, full circular brush used for lightweight application and blending of face powder or pigments, €45.00
*denotes a limited-edition product.