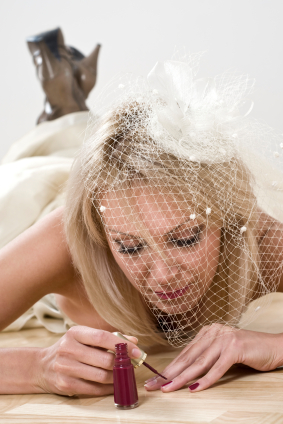 Since getting engaged last October I've been determined not to turn into a bridal bore and to that end, I've only written one other post on the subject. Keeping my inner Bridezilla at bay has actually proved remarkably easy, although the fact that we're only just starting to get down to the serious business of Proper Wedding Planning has probably helped.
Compared to other couples at the 6-and-a-bit months engaged mark we're moving at a positively glacial pace, I know, but taking it handy on the wedding prep front means I have plenty of time to snoop around other people's weddings in magazines and online.
Say "I do" to colour
Something that I've noticed - and I can't tell you how much this delights my little nail polish loving soul - is a trend for some brides to eschew the traditional French manicure and instead say "I do!" to a burst of colour on their fingertips for their big day.
It goes without saying that it's not for everyone and yes, a majority still opt for French tips, be they on natural nails, enhancements, or in the form of long-wear polish like Shellac to ensure the ring has no competition for centre stage. There's  the argument that a French manicure is a classic look that won't date and therefore will look better for longer in The Wedding Photos, but to that I say: be honest, now.
When was the last time a bride's nails and not the dress/veil/hairstyle/flowers clued you in on a photograph's age?
Advertised
Show off your personality
I'm all in favour of looking (and feeling) like yourself but better on your wedding day, so if you're a fan of the French in everyday life then great; you're all set. But if you wouldn't dream of sporting white tips on a daily basis and live for the thrill of a new nail polish collection being released, well why the hell not showcase that part of your personality on the big day?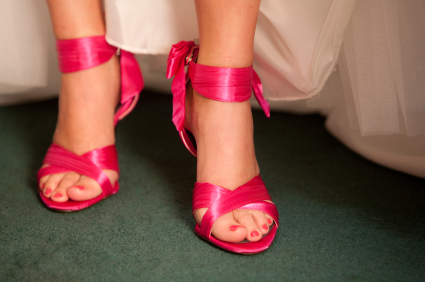 For something a bit different, shades of pink or red work well and are still a reasonably conservative colour choice. A classic red cream in particular can look amazing with lace dresses or vintage styling, especially when paired with a coordinating red lip. Nudes, beiges, and greys are an elegant, sophisticated alternative to the French manicure. And if you like the idea of wearing coloured polish but aren't 100% sure that you'll be happy with it on the day, how about restricting it to your toenails? A dusty duck-egg shade is a unique choice that really pops against bridal shoes and does double duty as the all-important "something blue
My picks:
-  For pinks: a cheerful bubblegum shade like OPI Elephantastic Pink that pops without being garish
- For reds: I can't get enough of coral-leaning reds in the vein of Rimmel Coral Romance
- For nudes: I'm a fan of greige shades like Essie Chinchilly and Orly Prince Charming
- For blues: it's got to be Tiffany box pretty hues similar to China Glaze For Audrey all the way
Would you - or did you! - wear a coloured polish on your wedding day?