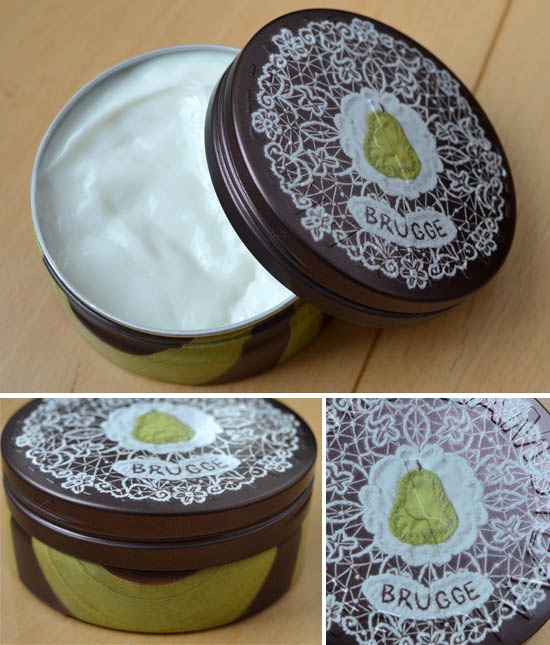 I've seen mentions of Steam Cream, €15, on th'Internet over the past few years, but it has finally made its way to our green shores (launching in Arnotts this weekend and also available now at Boots) and I picked up one of the adorable tins at the weekend. Created by the people behind Lush (relax, it smells a lot less invasive than a Lush shop), Steam Cream is a one-size-fits-all moisturiser that can be used on the face, body and hands and is suitable for all skin types.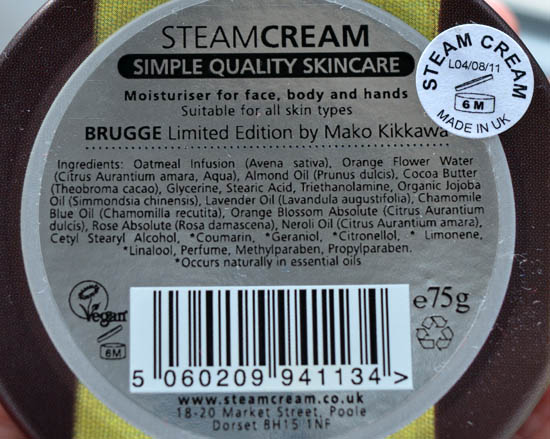 Based around an oatmeal infusion (this is particularly good for sensitive skin types) and orange flower water rather than the standard water base, Steam Cream also includes almond oil, glycerine, cocoa butter and jojoba oil to hydrate and soften the skin, with lavender oil and a number of other lovely essential oils giving the cream a nice relaxing fragrance. The steam in the name comes from the steam distillation process used to emulsify and bind the ingredients - a traditional method that keeps the ingredients pure and effective and allows them to be easily absorbed by the skin.
Handmade in small batches, Steam Cream does contain small amounts of parabens (sourced from blueberries and apples, which makes them sound a lot more appealing!), but has a shelf life of six months once opened. Happily, for those with ethical concerns when it comes to beauty products, it is 100% vegan and produced without animal testing (ingredients are also sourced from suppliers who don't test on animals).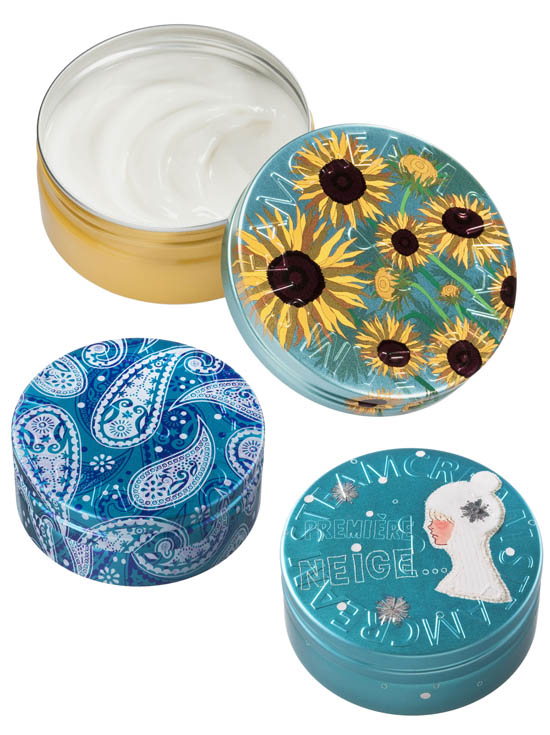 Advertised
Some of the limited edition tins available
I have to be honest and say the main draw from me, apart from all the above, is the adorable tins that Steam Cream is packaged in. Available in various colourful designs which are frequently updated, the company also collaborates regularly with artists, fashion labels and design houses to product limited edition tins.
The one I picked is from a collection by Japanese poet, textile designer and embroiderer Mako Kikkawa and there are so many lovely options to choose from that the main issue will probably be how to narrow it down to buy just one. Once you've finished the cream, these tins can be washed out and used to store whatever you like and will look very lovely adorning dressing tables or nightstands.
And the cream itself? The texture is very soft and more fluid than I expected - with the packaging I thought this would be more solid or balm-like, but the whipped cream spreads very easily on the skin and sinks in well. Applied as a handcream it doesn't sink in right away, but does disappear after a few minutes, leaving no greasy feel.
I wouldn't normally be comfortable using an all-in-one cream on my face, but I have tried it and it feels very nice on and left my skin feeling lovely and soft when used overnight. I haven't been using this long enough yet to tell how moisturising this would be for very dry skin, but it certainly feels nice and comforting on initial use and will be a nice all-rounder to have available as needed.
Advertised
At €15 for a 75ml tin, Steam Cream might seem a bit pricey if you're using it as a body cream, though as a face cream and for the quality of the ingredients the price isn't too bad. It is a bit of a jump from the £10 charged in the UK, however. What do you think? Have you already tried Steam Cream or will you be tempted to add a tin to your own or someone else's Christmas stocking? Let us know in a comment below!