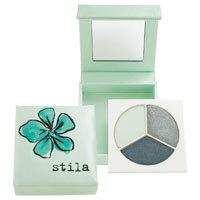 Oh stila! With this Spring Summer Collection you are truly spoiling us! "The inspiration behind the Stila Spring Summer collection is that of a spring garden… rich hues in dusty tones a modern sheerness to them. Sage and periwinkle are key shades of the collection and of the season". Mmmmm hmmmhmmmhmm.
Thank God for the might of Brown Thomas so, or we may never get our hands on such luxury (OK, I exaggerate - HQhair will also oblige) - and what luxury is is - limited edition Eyeshadow Trios fabulously packaged in satin jewellery boxes complete with heat embossed stila flowers screened onto the top of each! I may have given out about the occasional shoddiness of stila's packaging in the past - but darlings, all is now forgiven. There are three shadow combos available, and each palette contains a highlighter, crease colour and liner shade. Delish. But which to choose? Blue Bonnet? Ravishing Rose? Pretty Pansy (above left)? At €31.50 each, would it really be that bad if I bought all three?
Ladies, if you're of weak fibre, perhaps you better take a little breather now, and return to this post later - because there's more. Oh yes. There's more. If you're made of sterner stuff, however, then I shall lead on!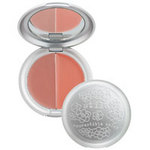 There are also three limited edition eye liners – 3 metallic shades have been created to match each palette, and are available in rose quartz, silver, & aquamarine. They had me at metallic.
And as if that wasn't enough excitement for one day, then you'll be extremely excited to know that there are also three limited edition plumping Lip Glazes in Vanilla, Cherry and Berry Mint, and a Convertible Cheek Colour Duo (left) in a split pan nestled inside a lovely silver compact. YAY!
Advertised
Too much excitement, must lie down!