 Before we get started I'll have to admit I'm quite late to the party when it comes to Shellac, Gelish and salon nail culture in general. The main reason for this is that when I was training in make-up (way back when), the course also covered how to do manicures so since then I've always been pretty good at painting, shaping and looking after my own nails. I'm no technician by any stretch of the imagination, but a steady hand accompanied by a grounding in the basics are useful skills to have when working on photo shoots and have got me by so far.
I wouldn't have the strongest nails so in general I keep them fairly short and neat so have never had an urge to get someone else to look after them for me. Plus I use quite a lot of hand sanitiser so I find that most nail polishes don't last very long before chipping, even with a decent top coat.
Instead, I find myself using the Sally Hansen Miracle Cure (€10.99) nail strengthener most days and then painting them for special occasions when I want to add a little pizzazz to whatever I'm wearing.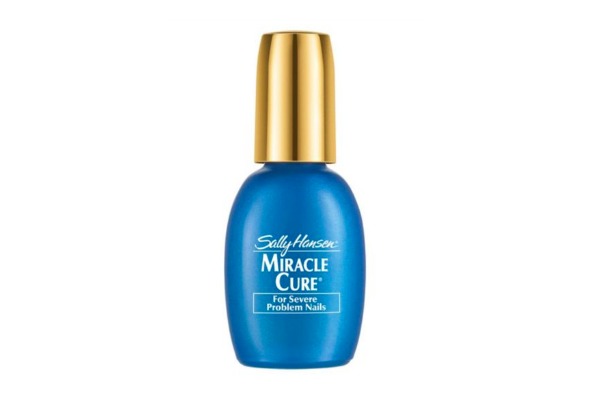 Things changed last year when a friend of mine gave me a voucher for Tropical Popical and so with an incentive to go, I went.
Having heard great things about Gelish I thought I'd give it the Midi Gelish Mani (€35) a go, and as it was close to Christmas chose the sparkliest option possible. Sadly I don't have a photo of the finished look but it was pretty epic. So epic in fact that when I was getting a take-away coffee at some point, the guy making it stopped and took my hand to admire them which made me blush (awkward!).
Sadly the joy of my sparkly nails wore off when I had to have the glitter removed. It required so much buffing/sanding my nails were left in a right old mess. To protect them, it was suggested that I get the regular Gelish on them but that lasted barely a week before peeling off. They were weak as a kitten and as thin as paper so I spent 4 months growing them out.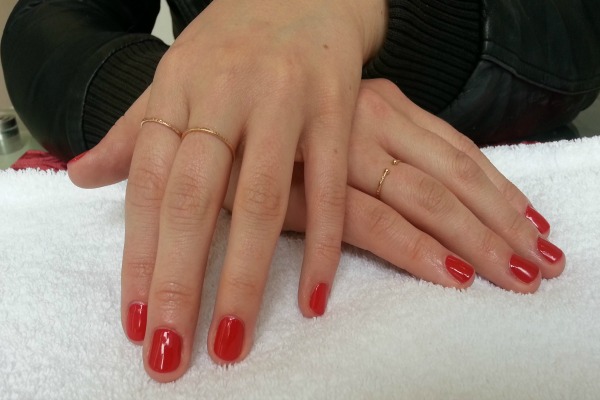 Advertised
A couple of months back, I happened to be in Kazumi hair salon getting my fringe trimmed and met Joanne Crowley who has a nail business in there. She suggested I try CND Shellac (€30) instead so I thought, why not? Over all I loved the glossy finish of my newly red nails, they grew longer, felt stronger and, after it was all removed and we changed to "Dark Lava", I noticed no damage or change in terms of natural nail strength (save for one nail that had been on the way out before I'd had anything done).
Maybe it's because there wasn't any glitter involved or maybe Joanne has particularly delicate touch when working on nails, but in the battle of Gelish vs Shellac, I know which side I'm on.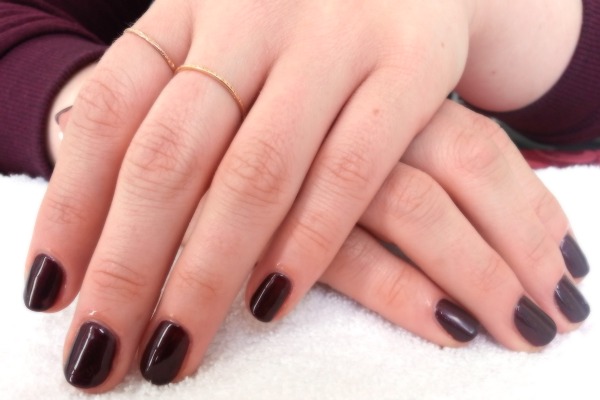 The third salon and manicure I've tried recently is the CND Vinylux weekly nail polish in 5th Avenue,Wicklow St (€15). I've tried these polishes in the past at home (minus the miracle top coat) with good results so thought I'd see what the salon results would be.
In terms of atmosphere, 5th Avenue is a hard one to explain. I found it wasn't as relaxing as Joanne's space in Kazumi, and not as fun as Tropical Popical. Maybe it's because of all the stations set up in the main room, they remind me of Underworld in Coronation street, but more salon-ish. The girl who did my nails was professional and friendly though, and I loved the shade we ended up using which was called "Field Fox" - plus the manicure did what it said on the tin and lasted for just over a week which is good going for me.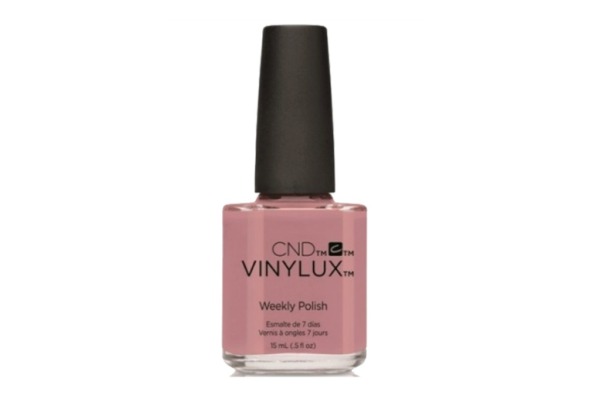 The only downside I can see to these types of manicures is the upkeep. I love having shiny, glossy nails but watching Shellac and Gelish grow out niggles at me, especially considering my nail bed isn't very long so they grow out faster than most. In future I'd probably do Shellac for special occasions or if I'm going on holiday and then dip in and out of the weekly manicures when I need my hands to look nice for whatever reason.
Advertised
Those were my experiences, do you have any to share? Do you think it's the product or application that matters most and if so, who is your go-to nail person?