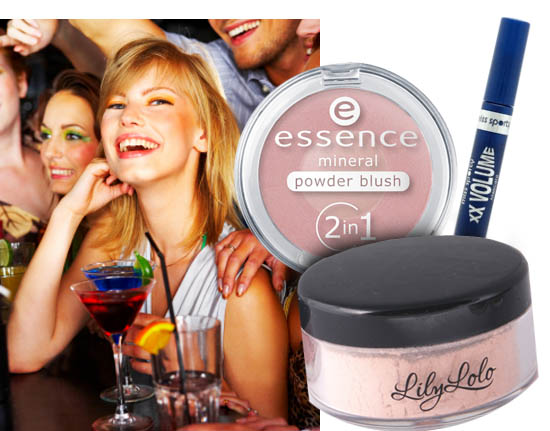 It's no state secret that I am a Very Big Fan Indeed of goods at the more affordable end of the cosmetics spectrum. Although I have had to suffer in my quest for makeup that is both cheap and actually good, I am now fairly confident in my stash of Essence, Catrice and the like. However, never let it be said that I am slapdash in my approach to slap. I recently conducted a highly scientific * experiment, pitting economical against expensive, to see which would triumph.
Night one, and my face was bedecked in budget beauty.
After years of facial failure, I have found my one and only in Lily Lolo Mineral Foundation, in Porcelain. Now, although this may come from the ground, it ain't entirely dirt cheap. My recessionista tip is to bag a trial size for £1.25 first, which will last a few weeks when used sparingly.
For blush, I used Essence Mineral Powder Blush 2in1. On curled lashes (curler: €2 from Dunnes Stores) I applied several coats of Miss Sporty XX Long Mascara. For liner, I actually used a dark brown eyebrow pencil from Penney's finest, Opia; with a brush on the lid, I was also able to tame my brows with it. I got this for 50c in a sale, but their €4 brow kit (of which more to follow) does an even better job. Catrice Rouge Satin lippie in glossy Spanish Red, €3.79, completed the look.
Advertised
When I'm in the money, I lean towards Benefit. With You Rebel Light tinted moisturiser as a base, I dusted my cheeks with Dandelion blush. Brows A-Go-Go prettified my peepers, with Exceptionnel De Chanel mascara ensuring my lashes were luscious. Add a slick of MAC Girl About Town, a superbly pink lipstick, et voilà!
And the winners? Defo Lily Lolo for foundation with staying power, but honestly, everything else was too close to call; although I couldn't live without my Brows A-Go-Go, a 50c pencil is hard to beat. Happy shopping!
*scientific/anecdotal: potato/potahto