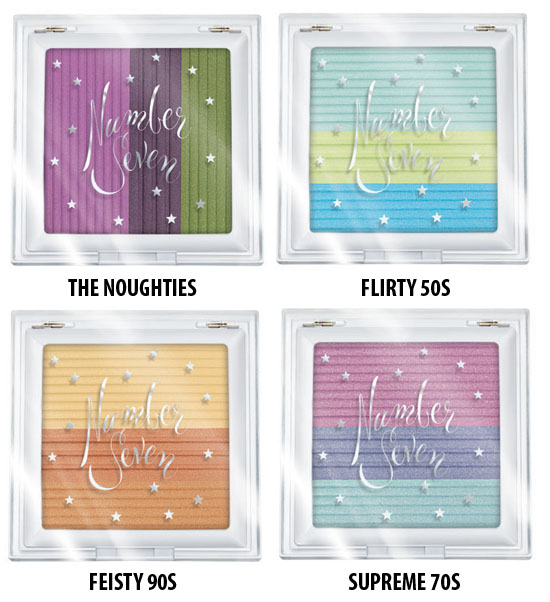 If there's one aspect of beauty on which I regularly fall down, it's eyeshadow. Going out on the town, I can use accent colours and contrasting shades galore. For regular daytime wear, though, I can never seem to wrap my head around which colours go together without being too loud, or too contrasting. Base colours confuse me utterly; shouldn't there be some sort of 'Eyeshadow for Dummies' guide?
Well, about as close as you're going to get to a Dulux colour card are the No 7 Decades anniversary eyeshadow trios, €13. The largest shade in each palette can be used as a base, with the two others as accent colours. The sets celebrate the seven decades No 7 has been around, and there are lipglosses and nail polishes in the range too.
I was vay excited when I saw the first set: 'The Noughties' is made up of a bright purple flagged by a deeper mauve and an olive green. I have green eyes, so the purple/green look is one of the few that even I know works well together. I used the lighter purple as a base, with the green applied wet as an accent colour along my top lid and the mauve as a liner across the bottom.
The next trio, 'Flirty 50s', was summer in a box. A pale, turquoise-blue base combined with a yellowy-green and a sky blue opened an entire realm of colourful possibility oh which Mr Crayola himself would've been proud. Really liked this.
Advertised
A brown-sandy-gold combo, called 'Feisty 90s', didn't impress me too much, but then I have yet to find a brown shadow that looks good on my super pale skin; this trio might work better for those with warmer skintones.
There was also a pink-purple-blue set – 'Supreme 70s' – which was all kinds of lovely.
As for pigmentation: the lighter colours were a bit wishy-washy in these stakes. It's defo a case of primer needed, as you'll be piling these on to get any intensity. The darker succeeded when applied wet, and considering I apply most of my shadows wet anyway, this was a plus.
The Decades collection is limited edition and went on counter in May, so not all Boots stores may still be carrying it. Hunt around, is our advice!
Get Beaut.ie Delivered
Stay updated with Beaut.ie newsletters full of the latest happenings at Beaut.ie as well as great offers and things we think you might find interesting .