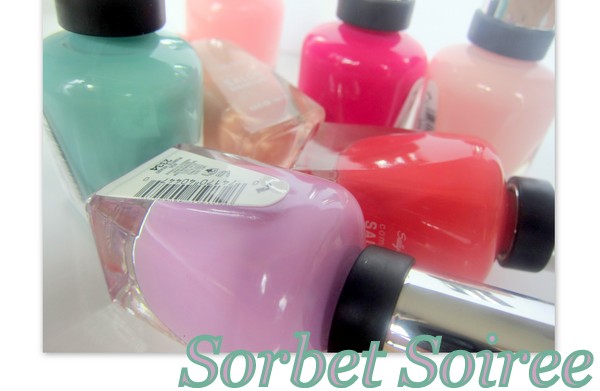 Just look at them -aren't they the sweetest darned things you've seen in a long, long time? The Sorbet Soiree collection from Sally Hansen is a lineup of seven shades that put you instantly in mind of garden parties, candy floss and ice-cream.
My favourite shade - three thin coats, no topcoat
If you follow us on Twitter you'll have seen Aisling's tweets of delight as she sneak peeked the line (and if you don't, why not do it now - we're great craic!)
Advertised
If you're a fan of the Complete Salon Manicure range, then these might come as a surprise - they're thinner and more sheer than we're used to. You need 2-3 coats, but bear in mind that with this range, an additional base or topcoat is not required (though I tend to use 'em anyway, out of habit). However, that's balanced out by two additional benefits to the original 48-strong line: we're promised gel-like shine, and chip resistance, too.
These 7 shades are the first of a whopping 23 additional shades the brand will launch this year. I. Can't. Wait. I love using this line - the brush is extra wide and gives you more control and precision, as well as increased coverage - you near enough get the whole nail in one swipe. Keep an eye out for their designer collaborations, too - created to complement specific fashion collections, these are available for a limited time only and are well worth snapping up.
L-R: Naked Ambition (w/ fine silver shimmer), Jaded, Purple Heart, Pink At Him, Cherry Up, Arm Candy, Get Juiced
Advertised
The Sorbet Soiree shades are €8.95 and out now - you'll find them in selected pharmacies, supermarkets and department stores nationwide.
Like what you see?