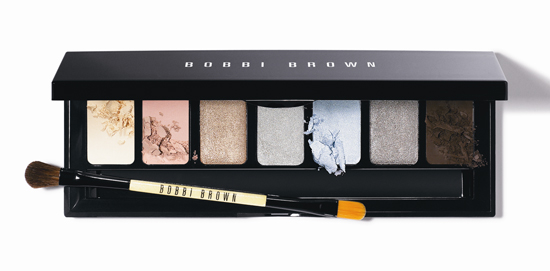 It's not hard for a Bobbi launch to impress me in fairness; I love her shadows, I love the concealer and I particularly like her brushes: I basically have all-round love for the brand.
Accusations of saminess are often leveled at the collections but that's been less of an issue over the past year or so and we've seen some really nice departures -  Platinum and Brights were both out-of-the-comfort-zone and all the better for it.
So, if you've ever lusted after one of her palettes but regretfully decided that seven shades of slightly different browns don't justify the spend, then you might like the new Nautical Collection Pastel Eye Shadow palette.
Three mattes (cream, a very wearable pink and a deep, chocolate brown) plus four shimmers make up the offering.  A frosted peach/champagne, silver, cool baby blue and surprisingly sexy purply-grey are the metallic offerings, making the total something you'll get a lot of use from. As per, there's a good mirror and an excellent quality brush included.
Advertised
The best bit's yet to come: price. This baby is £35 in the UK, so by the law of beauty brands, chaos theory and sheer wild guessing, I reckon this should be, oh, about €2,000,000.
Well, blow me down with a feather: it's €42. Bravo, Bobbi Brown, bravo.
PS: this is limited, limited, limited - so if you want it, go and get it, literally this second.