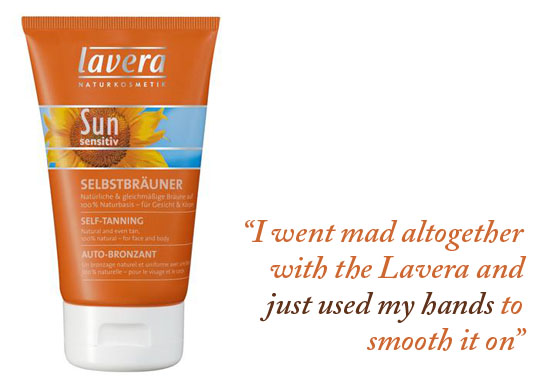 Using un-tinted fake tans always makes me a bit jittery. Any I've tried in the past have made it almost impossible to ensure even coverage, with a slight sheen on the skin the only tell-tale sign of where they've been applied. My wariness of these untinted numbers meant that I put off trying Lavera Self Tanning Lotion for ages, convinced that its lack of guide colour would lead to all manner of blotchy disasters. Ultimately, though, its plant-derived active tanning ingredients (from soy extracts) and chemical- and preservative-free ways piqued my interest so much that I couldn't not give it a whirl.
Well, in the words of happy smiley I'm-delighted-with-me-new-eyes Fiona off the Optilase ad, I needn't have been so worried. While I'd usually employ a tanning mitt or at least a glove to apply tan, I went mad altogether with the Lavera and just used my hands to smooth it on, washing them afterwards to avoid Tango palms. I didn't kill myself contorting my limbs into shapes a pretzel would be proud of to check for un-sheeny patches of skin, either.
Despite this crazy maverick behaviour, after three hours I could see the beginnings of a nice, light, even tan, which continued to develop until about eight hours had passed from the time of application. The only area I'd managed to cock up was my toes, where the lack of tint meant I'd inadvertently slathered on the tan - normally I'd just not false tan them and instead press them into the backs of my newly tanned calves to pick up a really small amount of colour.
Given the amount of good for your skin ingredients that Lavera manage to pack into this tan (organic jojoba oil, aloe vera and rose, together with Vitamin E and green tea extract) and the fact that it feels very nourishing and creamy going on to the skin, it actually dries surprisingly quickly.
Advertised
I should probably have given it 10 mintutes to sink in fully, but instead got dressed after only five minutes had elapsed and had no problems. It also doesn't really rub off too badly on clothes, which is the upside of no guide colour, and smells very pleasant - even when I slept in it, which is normally when you'll get the real soggy biscuit bang off a fake tan, the usual awful fake tan reek wasn't in evidence.
Colour me impressed, as well as lightly golden brown - I'd liken the result this gives to the effect you'd get from two or three applications of a gradual tanner like St. Tropez Everyday. It's very natural, and the box even bears the line "Remember - less is more; build up your tan to suit your own colouring" - if you're looking for a nuclear glow, this isn't going to be for you.
Find it at health stores nationwide, or online from BreatheOnline.ie for €14.15