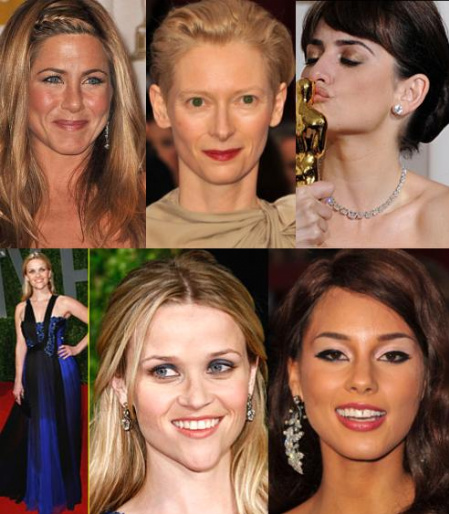 There was lots of discussion on yesterday's Blather about the sartorial merits of this year's Oscar frocks, but what did y'all think of the hair and make-up? I was glued to the show last night, and not just to ogle Hugh Jackman. Honest. The usual safe subtle smokey eyes and nude lips were out in force, of course, but there were a couple of stars rocking Something A Bit Different. Thank God.
* Jennifer Aniston wore her hair down and a bit tousled, and managed to look simple and relaxed yet elegant and glamorous, with the braid at the front adding interest. Far more, well, interesting than those bog standard half-up-half-down dos (sorry Angelina.)
* Tilda Swinton gets beauty kudos for showcasing the New Red Lip that xgirl posted about yesterday. And no, I don't know what the feck she was wearing either.
* Penelope Cruz channeled her inner gamine and immediately put me in mind of one A. Hepburn with her chunky fringe, paired with shimmering metallic bronze eyes and a sophis up-do.
Advertised
* Reese Witherspoon matched her eyeshadow to her gúna and went for navy, which was actually gorgeous rather than looking too matchy matchy.
* Alicia Keys, meanwhile, was bang on trend with her pink eyeshadow, defined with lashings of heavy black winged liner.
Those were just a few of the slebs who stood out for me, though - so whose look did you love... or hate?