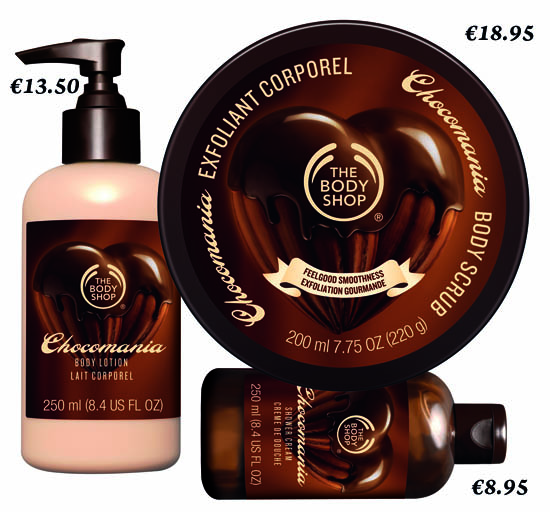 It's utterly delicious.   I've fallen hook line and sinker for The Body Shop and their gorgeous new Chocomania range.  The shower cream is - quite honestly - like having a shower in hot chocolate.  As soon as the hot water hits the cream it begins to heat up and smell fab.  And as for the Chocomania Body Butter - OH MY GOD.
We gave you a heads up on the Chocomania range at the beginning of February where we discussed the limited edition pot of Body Scrub.  Kirstie tried to persuade us that it looked like poo - you weren't having any of it.  Read: This Body Shop Chocomania Body Scrub smells delish but looks like...
It looks like chocolate pudding was the majority consensus.  The delicious kind that you heat up and put in the microwave.  "Oh good god I want that. In my mouth. Now." said Joy.  Easy there tiger!
However we did also agree that we are sick to the back teeth of The Body Shop's rip off Irish pricing and that they're losing A Lot Of Goodwill by refusing to bring their prices into line with other markets.
Mise said "I love Body Shop stuff, but am getting sick of being ripped off. I bought moisturiser the other day which was £11, roughly about €13 (little bit more maybe) but I paid €18 for it. Where did the extra €5 come from?" and Dubmel agreed.  "Never mind the currency conversion, it's more expensive than in French stores ones also: the deodorant refill is €4 there, versus €6.95 here!"
Advertised
For example the Chocomania Body Scrub we talked about retails in the States at $18.  That works out as €13.49.  But we are paying €18.50.  In the UK it's priced at £12.50 - which coverts to €14.99.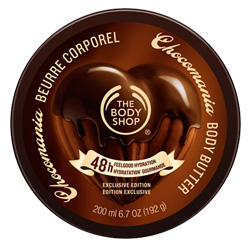 This range is being marketed as a guilt free Easter treat and if you're steering clear of the real thing and its million calories this is a great alternative.
But have you been put off The Body Shop because of their prices?