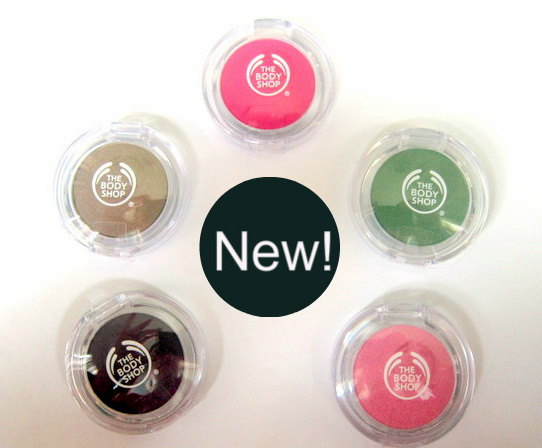 If you follow us on Twitter you may have seen a few sneaky pics of these babies already - we first look a lot of lovely things there and also on the Facebook page, so do check 'em out! Today we're back with all the lowdown on the new Colour Crush eyeshadow collection from the Body Shop, which is out now.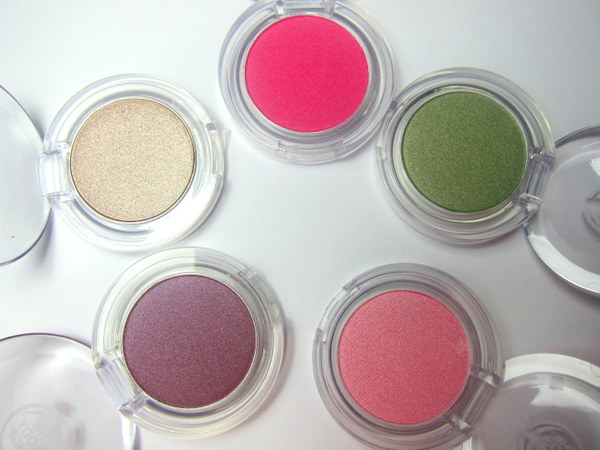 Made in Italy, from crushed pigments and a blend of Community Fair Trade oils, the first thing that struck me about these eyeshadows is how silky and blendable they are. Colour payoff is also great: for these swatches, I just lightly swiped my fingertip across the shadows and then onto my arm. They're really pigmented, and are also designed to be used either wet or dry depending on the colour or intensity you're trying to achieve.
L-R Grape Expectations, Caramel Flirt, Berry Cheeky, Berry Cute, Sweet Pea
Advertised
Best of all, there's a massive selection on offer here - 30 shades in total, ranging from neutrals to brights (like the fuchsia one I have here, called Berry Cheeky) and in both shimmery and matte finishes. I've got four shimmery shades - Sweet Pea, Berry Cute, Grape Expectations (props to whoever came up with that name!) and Caramel Flirt - whereas Berry Cheeky is a matte. I'd happily wear all of them - yep, even the fuchsia, which I think will look good with a dark brown in the crease.
Fancy a swizz at the full range?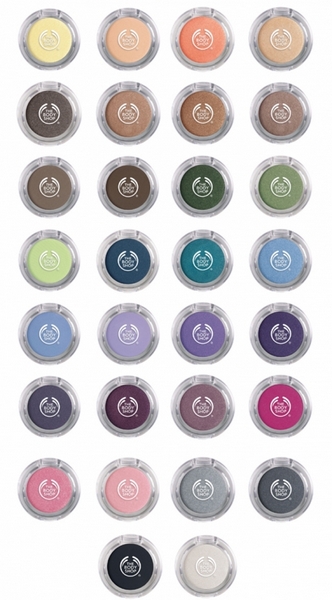 The Colour Crush collection is out now, priced at €12.95 per shadow. What colours are tickling your fancy?