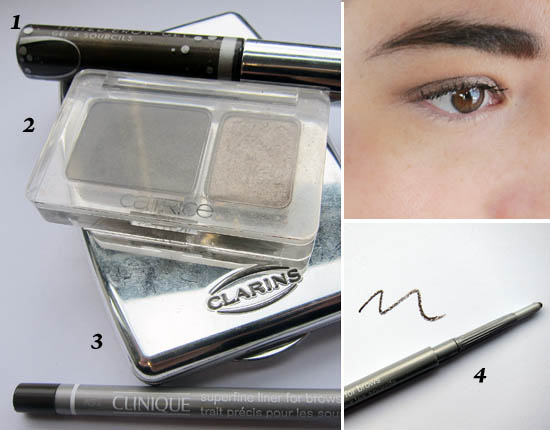 I'm locked into a never-ending struggle with my eyebrows. They haven't been the same since The Day My Sister Got Her Hair Cut, which resulted in a fit of jealousy and the mother of all home makeovers. One dodgy fringe, several peroxide 'highlights' and two straggly tadpole brows later, and my transformation was complete. That showed her. Yes, there were tears (most, apart from mine, of laughter), and I've been growing them back ever since.
But it's been a bumpy journey, and I really need professional help. The plan is to get them threaded every second month, and then maintain the shape at home. But come two days past payday, my account is so ravaged I can barely cover essentials like wine and lipstick. Brow maintenance goes out the window.
So there are a couple of hero products I rely on. Firstly, I'm never without a good brow pencil, to basically draw fake hair onto bare skin. One of the best is this Superfine Liner for Brows, €15 from Clinique (4): available in four shades, it's self-sharpening and very thin, so creates fine, natural looking strokes
I also like Avon's Glimmersticks brow definer, €8 (and Rimmel pencils are pretty decent too)
I use powder on the rest of my brows, for a softer look. I love the Clarins Pro Palette, €39, (3 which contains three powders, wax, a pinkish eyeshadow and three brow tools, which I've managed to lose in the year I've had the kit. Psst: check out our review of this too, for even more info
Sometimes I switch it up with the dark shade from Catrice's 'Help! I Am Stranded' palette (3): it does the job and is only a couple of quid
And in a pesky new development, I've recently discovered a couple of mad, wiry brow hairs that stick out at weird angles and just won't lie flat. I've been trying to beat them into submission with Anastasia brow gel in espresso (1), which I picked up in Elysian Brows. To be honest, it's a losing battle and they usually wrangle their way free by the end of the day
Advertised
Do you have any tips for me? How do you do yours?
Get Beaut.ie Delivered
Stay updated with Beaut.ie newsletters full of the latest happenings at Beaut.ie as well as great offers and things we think you might find interesting .