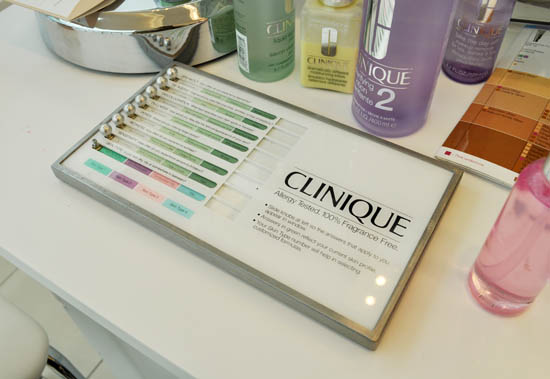 Retro: the Clinique Computer
Remember the poor auld Clinique Computer? A bright idea in its day, its low-tech abacus-style approach is pretty outdated in gadget and interactive-savvy 2012 and though it's still used on counters, at Brown Thomas Dublin, it's just been superseded by something else that's really rather good. More on that in a minute.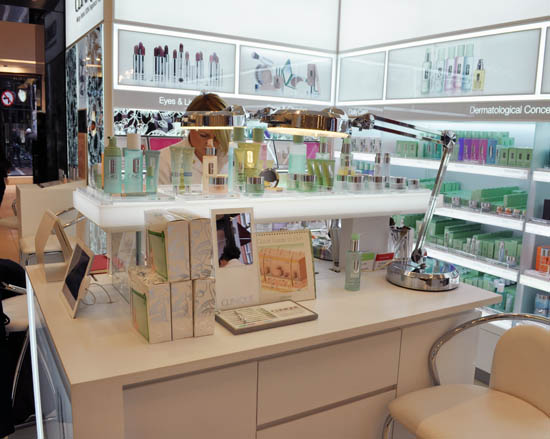 New island-style counters at Brown Thomas, Dublin
And in fact, the whole counter's had a bit of an extreme makeover, and it's all to do with customer experience. We write about this a lot: department store beauty shopping can feel like running the gauntlet of snooty sales staff who look down their noses at you and Clinique know this. So, out has gone the intimidating them-and-us border zone of the traditional counter and in have come two island stands around which you can wander and more easily access the products you want to look at.
Earlier this year the brand introduced a wristband scheme which customers can avail of when they hit up the counter for a browse. They're like those charity rubber bands and if you don a green one staff know you're up for consultation and advice. White means you want to buy quickly with no kerfuffle; pink means you want to browse without interference.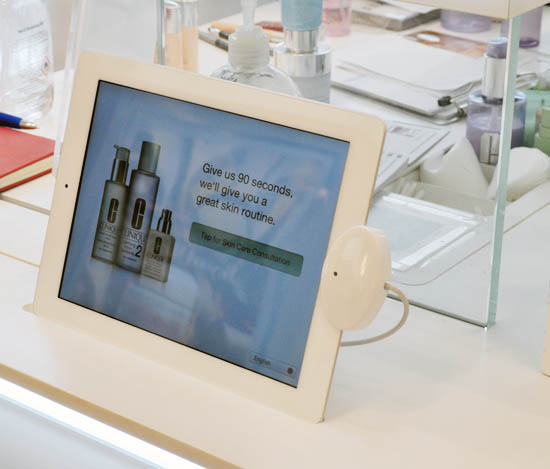 The Service as You Like it iPad
The Brown Thomas Dublin counter doesn't actually have those in store as of yet but what it does have, currently uniquely in the country, is Service As You Like It. This is basically the Clinique Computer 2.0 with added fanciness thanks to the interactivity that an iPad delivers. So, if you're up for it, a counter member will sit you down and whisk you through a consultation - and no, it doesn't take all day.
If you're not up for it, just say no thanks and politely move on. No one will hold you down and press the knobs of the Jurassic Clinique Computer against your sensitive bits as punishment.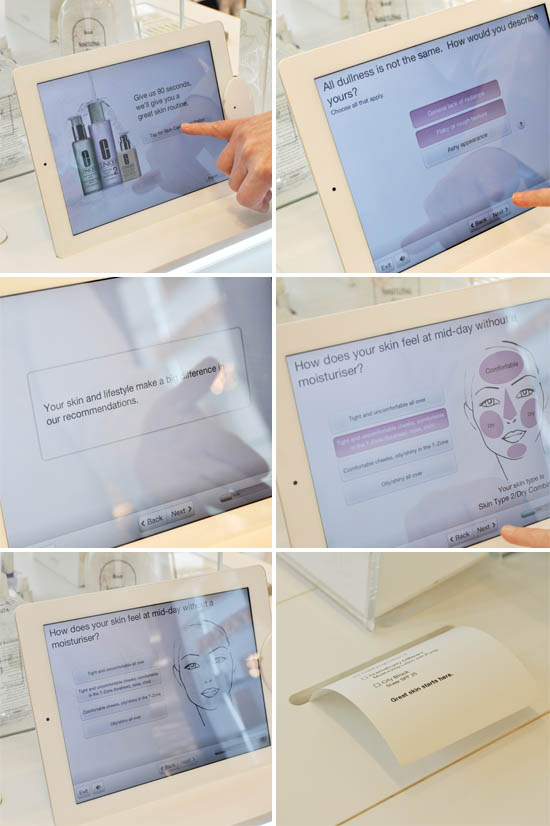 Advertised
Some of the screens you'll see as your consultant takes you through the process
So, Liz, who took me through the system, asked me a few questions and it was here I could immediately begin to see how this doohickey was in fact a lot better than previous diagnostics. They're now taking into account things like your lifestyle, the amount of sleep you get, where you live - a country or an urban environment for example - how much deliberate or accidental sun exposure you see daily as well as the more basic skin type questions in order to provide the most comprehensive skin diagnosis they can.
It's in your best interests to be honest, by the way, otherwise you'll end up having products recommended that won't suit. Plus, counter staff are well trained and can assess and adjust further to make sure it's all correct and tailored. Once the iPad diagnosis is done, a little printout appears with your personal product prescription and your skin diagnosis. Me? I'm skin type two, dry/combination with dryness and a lack of radiance, and products to address both were recommended on my chit.
It's like living in the future. Except now.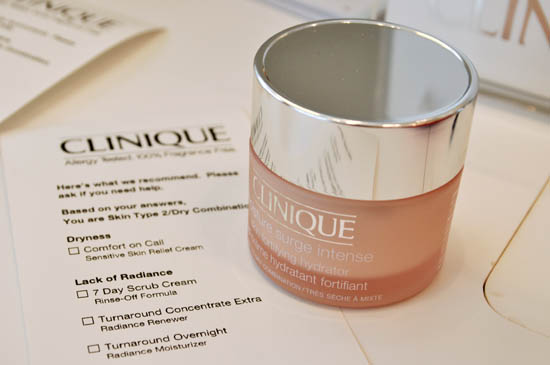 So, at this point you could trundle off home; but they do advise that you have the recommended products applied so you can see and feel for yourself what they're like. Mine included Comfort on Call, €52, 7 Day Scrub Cream, €23, and Turnaround Overnight, €52.
In addition, the three-step system was diagnosed for basic cleansing and moisturising - apparently it is included for everyone. I raised my eyes at this a bit - it's just not something I'd use at my age and would consider it a waste of money for me personally, but there's no onus on you to buy everything, or indeed anything. In addition, they actually offer a money back guarantee on products, something I wasn't aware of and which more brands should definitely emulate.
While there are many plusses to Service As You Like It, there are a couple of things that customers are bound to not love so much about it. I have no problem sitting on the shop floor having makeup taken off and products applied while the consultant explains and shows me what's what, but I'm pretty much embarrassment-proof after doing this job for years. That's not necessarily the case for others and there's little privacy on offer.
In addition, there's not much opportunity for sampling: if the brand happens to have trial sizes of what it's recommended for you then you can certainly avail of them, otherwise the only way to try before you buy is to have the products applied by your consultant at the time. As a rule of thumb, brands tend to have samples for new or re-promoted products, not all of them. Your personal product printout is held in store along with a customer record, so you don't get to take it off with you - after all, Clinique is running a business and they want to keep that business at counter, and not give it off to online stores. And you know, that's fair enough to be honest.
EDIT: You can actually request a second printout for your very own to take off with you - so definitely do that if you'd like some further study. There is also a new dramming service I wasn't aware of at time of writing; small pots are now available at counter and staff can dispense product into them, enough for a couple of days use.
But tempering those gripes, there's this: it's free.  In previous years you'd have had to pay money for a consultation elsewhere for this sort of service, and to get it for nothing now is a good deal, especially if you're at the end of your tether with your skin and are looking for help. Clinique as a brand is upping its game all the time and in particular its anti-ageing and issue-specific products of late have been very strong. Liz, the consultant who dealt with me, knew her stuff to boot.
Advertised
For the couple of niggles I might have about Service As You Like, they're outweighed by the fact that it's friendly, fast - and free.
Service as You Like is a complimentary offering at Clinique, Brown Thomas Dublin. Just call to the counter and ask for your free skin diagnosis using the iPad. During busy periods there may be a bit of waiting time. Service as You Like isn't currently available at any other Irish Clinique counters.

Get Beaut.ie Delivered
Stay updated with Beaut.ie newsletters full of the latest happenings at Beaut.ie as well as great offers and things we think you might find interesting .