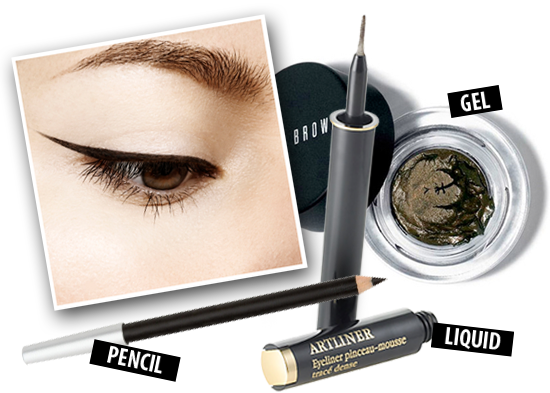 I always start to get excited about eyeliner when Autumn/Winter fashion starts appearing in magazines and shops. Not that I don't use it in Summer, but there's just something about the anticipation of colder weather and warmer clothes that makes me long for a dark, heavily-lined eye.
There is a huge amount of choice out there when it comes to eyeliner, so I thought I'd put a little guide together to help decipher what's what and where to go depending on the look you want.
Pencils
Probably the easiest option to start out with, pencils are very handy for creating a soft, smudged line. You can smudge the pencil into the base of the lashes for a subtle look, or hold the eyelid taut with one hand to draw a strong line across the lid. Try grey, navy or plum in place of the standard black and brown when you feel like a change. MAC has a great range of colours in their softer Eye Kohl or more long-lasting Powerpoint pencil ranges.
Ideal for: daytime wear, subtle looks
Liquid liner
This option always seems scarier than it actually is, but do give yourself plenty of time to correct any mistakes when you first try to apply it. Those that come in a pen format are easier to control than those with a brush which dips into the liner fluid. Use one hand to hold your lid taut when applying and steady your other hand by leaning your elbow on a hard surface. Try putting a mirror on a table where you have good light and looking downwards into it. Try Shiseido Fine Eyeliner or L'Oreal Paris Superliner.
Ideal for: creating sharp lines, using on the go
Advertised
Gel liner
Almost every line seems to be offering a gel liner these days, with Bobbi Brown's Long Wear Gel Eyeliner a popular option. The beauty of the gel liner is that you can create many different lines, depending on the type of brush you use. Use a fine, narrow brush to create a thin line close to the lashes, or try a slanted brush to draw a broader line for a stronger look. Flick the line up at the outer corner for a 60s-style kittenish look, or just raise it slightly at the outer edge of the lashes, to avoid pulling your eye downwards.
Ideal for: indulging the artist within
Cake liner
Somewhat similar to gel liner in the way it can be used, cake liner is dry in the compact, but when mixed with water or another mixing medium, it turns into a cream consistency. Apply it as you would gel liner. Usually it's easier to transport than gel liner as it comes packaged in a flat compact, where gel liners tend to be housed in glass jars to stop them from drying out. Try Benefit's Babe Cake eye lining kit or Laura Mercier Eye Liner.
Ideal for: strong, graphic looks
Eye shadow
Advertised
Dark eye shadows with high pigment levels can be ideal for use to line the eye if you want a very subtle look. Smudge the powder into the lashline with a short-bristled brush and then blend into the rest of your eye makeup for a very gentle effect or apply with a dampened brush for a more defined look. Bobbi Brown has a great range of very pigmented eye shadow shades ideal for lining - try Espresso for a nice smoky dark brown.
Ideal for: Easy eye looks and when you're in a hurry, softly lining underneath the eye