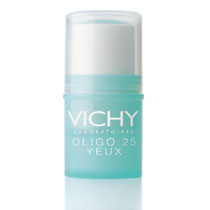 Vichy is a brand that I've found myself turning to more and more recently. They produce ranges to address every conceivable skin type, the stuff is widely available, really reasonably priced, and does exactly what it says on the tin. What's not to love, hah?
Oligo 25 is their anti-dullness line, promising to improve the microcirculation of the skin to promote radiance and a more even complexion. The eye care product of the range is this here anti-fatigue eye cooling gel stick, which comes in a dinky little turquoise twist-up applicator not much bigger than your thumb. Containing manganese and escinine to "revitalise skin radiance", the stick is fragrance free and hypoallergenice. Oh, and Vichy reckon that this little cutie will reduce the appearance of under-eye bags and fade dark circles after just one week of use.
Advertised
This morning was my first go of it, and it definitely felt cooling and very refreshing on my tired eye area. Can't wait to see how bright eyed and bushy tailed I look this day week!