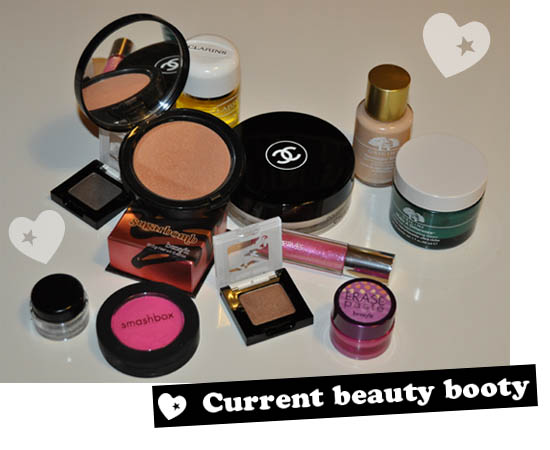 I recently got a new fancy digital SLR camera so it's gonna be swatch-central round here, mark my words. I haven't a bogs notion yet how to get the best out of it (camera course, here I come, STAT), but my attempts to point and click are delivering semi-passable results so I thought I'd share with you a few bits and bobs I'm using a lot at the moment.
Lets start with that little shadow up there on the top left, shall we:
it's a Benefit Velvet Eyeshadow in Where There's Smoke, and you can see its compadre down by the pot of Erase Paste. That shade is Rich Beach, and I'm using these together a lot for work recently - the texture is very creamy, they're not too shimmery and they're very easy to work with. Nice packaging, too
I am shockingly pale right now and am using bronzer quite a bit, which to be honest I normally never do. My product of choice is Bobbi Brown's Illuminating Bronzing Powder in Bali Brown. It's very sheer - important! - delivers the teeniest smidgen of colour - important! - and has a very subtle shimmer which wakes up my winter skin - important!
Beside it is Chanel's Poudre Cristalline. I've had this product for a while but a recent chat with makeup artist Christine Lucignano made me dig it back out. It's designed to deliver a HD-ready effect to skin and she raved about it. On my skin, the jury's still out I'm afraid, it delivers a papery look that I'm not thrilled by. More testing required!
Behind both products you can see Clarins Blue Orchid Oil peeping out - check out my thoughts on that here. I use this at night before bed.
Advertised
Two Origins products next (truly, my love of Origins knows no bounds). The foundation is not on-counter yet and I'm testing it happily - keep an eye out for a review soon. It's called Youthopia SPF15 Skin Firming Foundation with Rhodiola, and so far, so good
My day cream of choice is Origins Make a Difference - it is truly wonderous and fantastic
Front row: the little pot is a Barbara Daly mousse eyeshadow in a nice creamy shimmery dark silver-grey. Great as a wash of colour but equally good as a base for a smokey eye
Smashbox blush in whore-tastic pink (can't remember exact shade, sorry!). Also, the second I took this pic I dropped said blush and shattered it into a billion tiny, messy pieces.
Behind is Benefit Sugarbomb, (yes, having a little B love recently, it seems) sitting beneath my Bobbi Brown bronzer. This is their latest blush must-have.
Behind the aforementioned Benefit eyeshadow is a beeeeutiful and super-sparkly gloss from *sob* Prescriptives. It was part of last summer's collection and is just gorgeous - loads and loads of glitter and shine and when it finishes I will be very sad.
Lastly, another Benefit product - my trusty pot of Erase Paste is almost done and it's been a brilliant beauty bit
That's me - what are you using all the time at the moment?