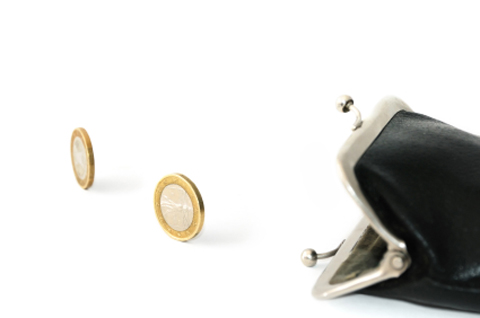 In Ireland, since the Euro gained against Sterling and the recession hit us so badly, we've stood up and fought for fairer prices on food and fashion, and our endeavours have paid off. UK retailers were forced to drop prices due to sharp slumps in demand for their ridiculously-inflated goods. We're quite simply not accepting the rip-off culture we put up when we all had cash to spare. And proper order too.
Oh, all except in the area of beauty. There the rip-off continues and what's more, thrives.
I've kept my mouth shut on this issue till now as I hoped beauty companies would start to introduce fairer prices as the Euro maintained value, but nothing is changing, and it's time to say something. Because I've realised that it's this simple: If we accept, tolerate and pay high, unfair prices, then we GET high, unfair prices. We essentially send a message that it's ok and we're happy to pay any old amount at all.
In my job, I often get to see the UK and Euro equivalent on cosmetic prices, and to a large part, the numbers jar. And they jar badly. But lets get something straight: I'm not revealing insider info here and equally I am not singling out any brand in particular, because from what I can see, the majority of beauty companies are at it. This is not about fighting with brands, it's not about having a go at particular product and most of all it's not personal. But it is about transparent, fair pricing and a level playing field for consumers.
You already know about the crazy price differential from your trips to the UK or up north, you can all add and subtract, you're not stupid. You can easily check UK websites and then do price comparisons in stores here, which is basically exactly what I have done. I checked UK sites, cross-referenced Euro prices by phoning stores or checking press releases I had to hand. So this stuff is public domain and it's not rocket science, but we're being taken for a ride, and it's got to stop.
Lets let reality bite here for a minute. Right now, £1 is worth €1.10 - and it's a long time now since there was a very significant gap between them - so there's a 10% difference in the value of the currencies. Ireland has a VAT rate of 21.5% compared to the UK's 15%. So that's another 6.5% difference.
Advertised
Ok, so we can already account for a 16.5% difference in prices. That's not unfair, that's business, and that's a consequence of our Eurozone currency and higher VAT rate. Ireland is, we're told, an expensive country to operate in, so lets, to be fair, round the price differential up to 25%, to take into account higher wage demands and insurance and rent costs. Let me say I think this is high - especially given the huge margin on cosmetic products - but I'd rather err on the side of caution.
Right, at the very most, my opinion is we should be looking at a 25% increase in the price of a product between the UK and Ireland. But are we?
I've checked prices for a selection of beauty buys and I've tried to ensure a spread across high-end and low as well as across corporations. It's not remotely exhaustive, but equally I wasn't deliberately looking to find products with huge price differences, these are just 10 randomly-chosen things we've written about on the blog. There are many, many more examples out there but here are my results, based on my 25% tolerance level.
Product
Actual UK price
Plus 25% to get 'realistic' Euro
price
Actual Euro price
Price Difference
between 'realistic' &
actual price
% Difference
on top of
25% tolerance

Bliss Soapy Suds
£15
€18.75
€21
€2.25
12%
MAC Eye Kit 6 Sorceress Eye Shadows
£29.50
€36.88
€48
€11.12
30.15%
Dior 5 Couleurs Iridescent Eyeshadow
£36
€45
€51
€6
13.3%
Barry M Dazzle Dust
£4.50
€5.62
€6.95
€1.33
23.7%
Benefit Brows a Go Go
£26.50
€33.12
€39.50
€6.38
19.3%
Lancome Genefique 30ml
£52.50
€65.63
€70
€4.37
6.7%
No7 Protect and Perfect Intense
£19
€23.75
€26
€2.25
9.5%
L'Oreal Paris Elvive Full Restore 5 Replenishing Masque 200ml
£3.99
€4.99
€7.99
€3
60.1%
Nars Orgasm blush
£18.50
€23.13
€29
€5.87
25.4%
Chanel Hydramax+ Active Serum 30ml
£49
€61.25
€67.50
€6.25
10.2%
I know that in some cases there's only a couple of Euro of a discrepancy, and you might not think it's a big deal. But it is a big deal. There is no longer any excuse with regard to currency exchange factors and there hasn't been for some time. Why shouldn't that cash be in your pocket?
Advertised
If you think this is wrong, I would like you to leave a comment and let beauty brands know, in no uncertain terms that you are not impressed, and it will affect how you spend your cash with them. If you'd like to rate a rip-off you've seen recently too, please feel free.
Sterling price sources: brand press information, boots.com, narscosmetics.co.uk, maccosmetics.co.uk, barrym.co.uk, blisslondon.co.uk, lancome.co.uk