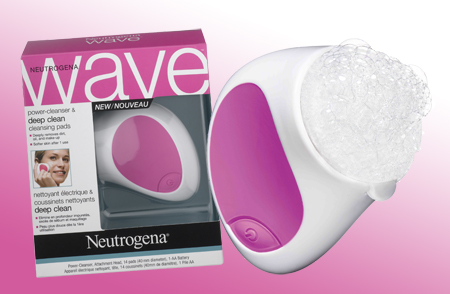 You know we love to be first with new beauty launches, so when we went to a top-secret meeting a couple of months ago to see the new Neutrogena Wave cleanser, we were very excited indeed - and it's been very hard not blogging about it until now.
We'd seen loads of stuff about this doofer on state-side beauty blogs, and the fact that they were heading to our shores was something we knew would go down a storm here, especially considering one is sold every 15 seconds in the US, with 1,400,000 kits sold since January 2008. Right, that's enough numbers for one post, my mind is boggling.
Designed specially for younger skins, the Wave is the first vibrating power cleanser from Neutrogena, and what it does is lift off all manner of gunk and gudge off your noggin, leaving you cleansed to perfection. And how, pray tell, does it do that? Well, it's all down to its vibrating motion which activates a cleanser impregnated inside special press-on pads - you attach a new one each time you cleanse - and then the vibro-action lifts off dirt, gently cleaning deep-down. The results? Super-smooth skin and fewer impurities. All for €14.89? SOLD!
We've been giving it a whizz at Beaut.ie HQ, as have a few lucky readers, and we'll be telling you a lot more about it next week (and sure you never know, you might all want to get your fastest fingers flexed and exercised - don't say I didn't warn you!), so stay tuned for that.
Advertised
In the meantime, check after the cut for a bit of YouTubin' showcasing exactly what the Wave can do. The excitement!