 I'm having a Neal's Yard Remedies moment, I can't help myself.   I couldn't WAIT to try out the Wild Rose Beauty Balm (€48.40) when I first got my hands on some Neal's Yard Remedies Organic goodies a few weeks back. This unassuming little pot houses a balm that is packed with rosehip seed oil, jojoba oil, shea butter and a number of other nourishing plant oils and while I initially took it for a cleansing balm, I soon discovered it has a multitude of other uses too.
Used with the included muslin cloth, Wild Rose Beauty Balm is a gentle but effective exfoliating cleanser. Applied and left on cleansed skin for a relaxing half hour and it's a balancing mask. Applied sparingly to dry skin it's a nourishing treatment. And combine all three of these uses and you have a delicious at home facial to gentle deep cleanse and nourish the skin.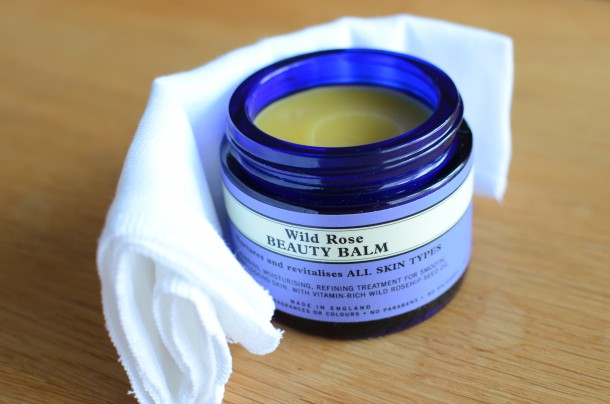 It might sound a bit unlikely that a product that is made to nourish the skin would also work to exfoliate, but the deep cleanse with the muslin cloth is very effective and helped to clear up some areas of congestion without upsetting my dry, sensitive skin. The balm melts easily between the fingertips and only a small bit is needed for the whole face. I wouldn't use it to remove makeup, but as a weekly treat to clarify the skin after removing makeup, this is ideal.
Step two, the balancing facial, involves applying the balm to cleansed skin and leaving it on while you relax for 30 minutes (or if you're me, while you do a few other beauty tasks such as removing old nail polish). You can then either remove the balm with the muslin and hot water, or if you want to carry on to step three, massage the residue into the skin for a nourishing treat.
Advertised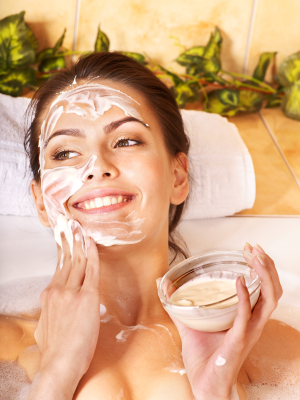 A helpful insert included with the balm describes how to use facial massage techniques to massage the balm into the skin and the instructions are easy to follow and make for a nice relaxing end to the whole treatment. This step might be too much for your skin if it's not at all dry, but I found it perfect for my skin and I think it would be ideal for skin suffering the effects of harsh winter weather or long haul travel, for example.
The outcome of all this pampering was skin that was clear, smooth, plumped up and glowing and it's pretty impressive that one little pot could do all this. So while the pricetag may be a bit hard to swallow, when you consider the multitude of uses it begins to seem more fair. And if organic, natural skincare is important to you, then you'll be happy to hear that Wild Rose Beauty Balm is 99% organic.