 I have frightfully long eye lashes. So much so, when I was a baby, my mum had to very carefully trim them as they used to get stuck together. Woe is me. Thankfully, I am delighted for this personal trait in my early thirties, as there is no need for fake eyelashes or eye lash extensions. I just need a good mascara to draw them out and frame my eyes.
Even if I have no make up on, once mascara is in place and my eye brows are drawn on, I feel made up. So this week, I've tackled the challenge of long lasting mascara. Now some of these are not advertised as  long lasting per se, but I found them to do the trick. And they won't break the bank either.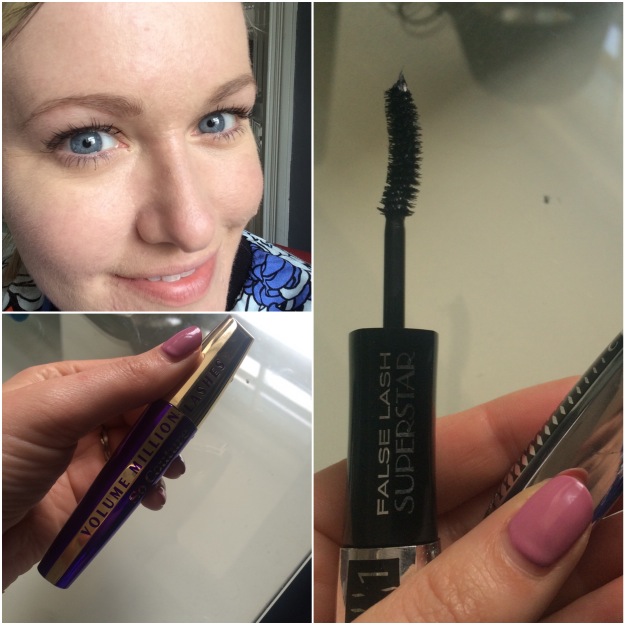 On my left eye above, L'Oreal False Lash Superstar; on my right eye I'm wearing Volume Million Lashes
The ones I found to perform the best were from L'Oreal. First up, the False Lash Superstar (€17.99) mascara has two things going for it. On one end is the primer which  my lashes love, as it keeps them treated before applying the product. Then for the mascara itself. The brush as a curve which aligns nicely with your lashes. The texture is not too wet, and not to clunky so it goes on with just one coat. Add one more maybe for evening time. The product didn't transfer, and it really did stay put all day.
Advertised
The second L'Oreal product is Volume Million Lashes (€13.99) which adds more oomph to your eyes. The brush is actually made from rubber fibres which takes on more product to the applicator so again, one coat is enough. This gave my lashes impact, and it I thought the product texture was quite velvety. If you have thin lashes, this is a very good one as the volume is added easily without looking caked.
On the budget end of the scale is NYC City Proof (this one is waterproof) which claims to last 24 hours (€2.99). Now I'm not sure if I want to leave my mascara on for that long, but I did get the day out of it. The brush is thicker but it does need a couple of coats. I do have oily eye lids, but the product didn't budge and even with having runny eyes thanks to hayfever, the waterproof aspect is true to its claim.
Have you a favourite mascara that never runs and just stays put? Tell us!