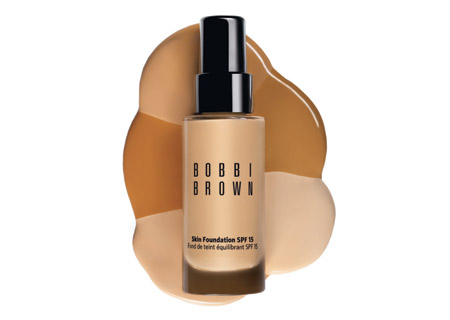 Way back in January, Kirstie gave us the heads-up on Bobbi Brown's new Skin Foundation SPF15. I've been trying it out for the past little while, and I have to say that I really like it! Billed as offering "invisible, weightless coverage that looks like skin, not foundation", Skin Foundation does indeed give a very natural finish; evening out skintone, concealing imperfections and minimizing pores. You can apply it sheerly if you don't need much coverage, or build it up in layers without it turning into a cakey mess.
As this is a long-lasting formulation, I was advised to moisturise my dry skin well before applying it, but I don't notice any particular problems with dryness or flakes showing up when using my usual moisturisers. I've been applying it with my fingers when I'm in a hurry, or with a dampened sponge when I have more time to blend carefully, but either way it applies beautifully with no streaks and does not sink into my pores.
Advertised
Skin Foundation SPF15 comes in a glass bottle with a pump top and is available in 17 shades. I've been wearing Porcelain, which is perfect for my fair, neutral-toned skin. Available now from Bobbi Brown counters, priced at €38.