 One of the things I love about make-up is its ability to bring a little fun into our lives and as the sun was shining this week, I thought I'd play around with some colour instead of going for the traditional grey, black or brown smokey eye look.
I know that a lot of people are blue-phobic when it comes to their eye shadows, but when the soon to be released YSL Full Metal cream eyeshadow landed on my desk I felt inspired to create a look around it and also to get a bit of love going for my old friend blue again.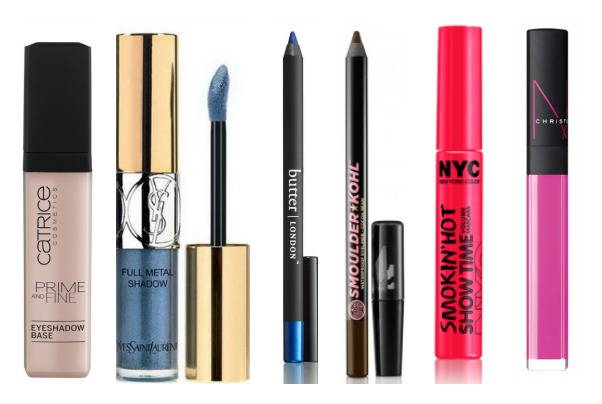 Above are the key products used to create this look including the Catrice Prime & Fine eyeshadow base (€3.59), YSL Full Metal Shadow in Wet Blue (€33 available from May 1st), Butter London Inky Six Wink Eyeliner (€18), Soap & Glory Smoulder Kohl (€6.50), NYC Smokin' Hot Mascara (€1.99) and NARS Christopher Kane limited edition lipgloss in Sheer Fuchsia (€25).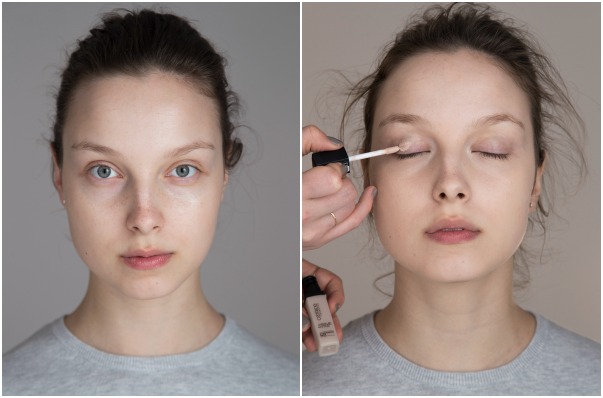 To begin with I prepped model Anastasia's skin using L'Occitane Pivoine Sublime Perfecting Cream to give a nice, soft base for the foundation to blend over. As her skin tone is slightly yellower, I went for Chanel Vitalumiere foundation and then did a little light concealing under eyes.
Eye primer was then applied to lids and along the lower lash line to help avoid creasing and make any eyeshadow and liner easier and smoother to blend.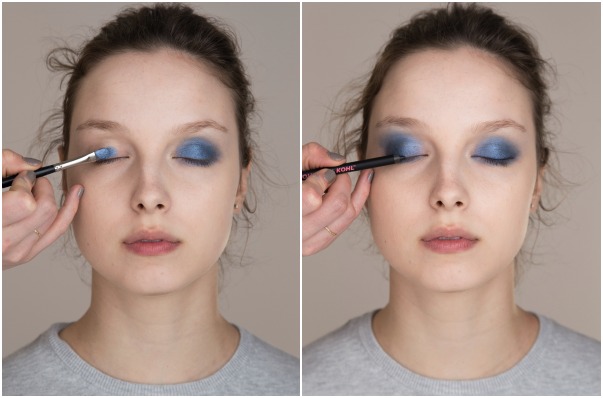 At this stage no powder had been applied to the base, the reason being that I didn't want to risk the chance of the cream shadow dragging, although if you wanted to you could powder now but just avoid the eye area.
I started by applying the blue shadow to the centre of the lid and underneath the lower lashes with a flat headed brush and the blended up towards the socket line and underneath, using my ring finger to help diffuse the outer edges.
Advertised
The pigment in the eyeshadow was really good but to create a little more depth I patted on more in the middle of the eye to catch the light. Once that was done, I added definition to brows using Benefit Gimme Brow (€24.50) and then using Soap & Glory's soft, kohl pencil, lined the top lashes, and outer third of the lower lashes, smudging out for a smooth finish.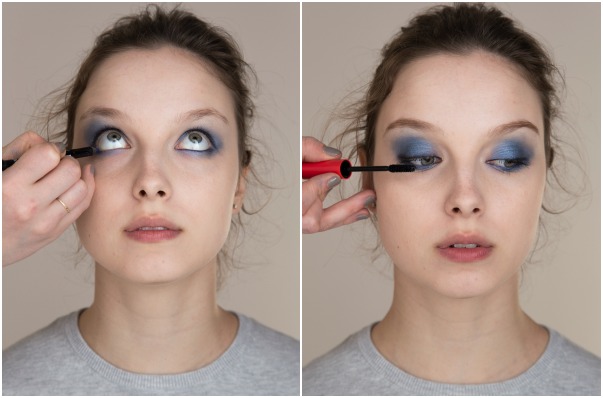 Instead of a black eyeliner on the inside waterline I chose to use a navy one as it's a little softer and the shade worked well with Anastasia's own eye colour.
The Butter London wink liners are some of the only pencils I've found that come across true in colour and also last well. To give definition, I added a little mascara to both top and bottom lashes, starting at the base and wiggling the wand through the hairs to create a fanned out effect.
And to polish off the look I dusted the T-zone with loose powder and then applied Nars Sheer Fuchsia lip gloss to lips as well as dabbing a little on cheeks for a subtle hint of colour.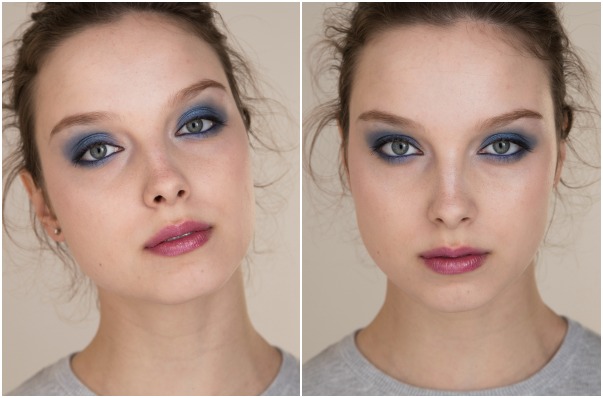 Are you a fan of beautiful blues and striking shades? And we'd love you to tweet us @beautie if you recreate the look!
Credits: 
Make-up & hair by Sarah Lanagan // photography Aaron Hurley assisted by Aoife Horan // Model Anastasia with 1st Option management // Shot in Daylight 44 Studios.
Advertised
These images have not been photoshopped or edited and give a true representation of product colours and finish.