 'Warming up' makeup is a tricky business. Generally, I avoid getting a tan altogether because it isn't something that my body does in response to the sun. Also, because I'm so pale, I mostly go red. Sunburn is damage, and over enough summers of getting caught out, it isn't reversible.
Sometimes, though, it's nice to mix things up, and the weather has been so lovely this week that I've been in the mood to reflect that in my makeup, so I've mimicked the effect that the sun would have on my skin if it didn't just set my head alight the moment I step out into it.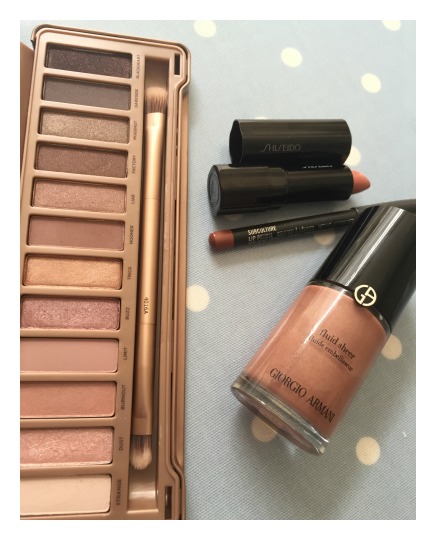 Step One
Start by using your normal foundation - something light that suits the hot weather. You're still going to match it exactly to your skin tone - we won't mimic the effect of the sun by having a head three shades darker than our neck. It won't look any way natural.
I'm using L'Occitane Precious BB cream. It's light enough in texture to stay on my face, but gives a little bit of coverage too.
Next, I'm filling in my brows with Illamasqua brow gel in Awe.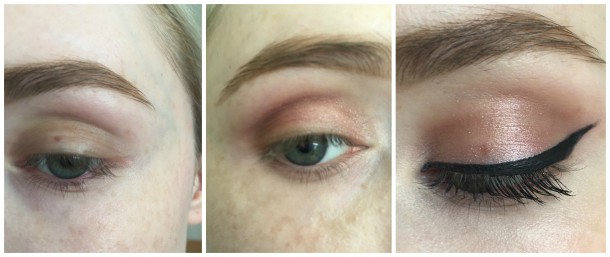 Step Two
Advertised
Start off your eyes by applying a thin wash of cream shadow with your finger. I'm using Armani Eye & Brow Maestro in Ambre. It's a really pigmented burnt gold colour, so a little goes a long way. This will give our powder shadows something to stick to.
Because the warm shades are perfect for summer makeup, I'm using the Urban Decay Naked 3 Palette. Any warm hues you have will work, but I'm using mostly satin formulations for a slightly glossy finish to the eye. It compliments the whole warm, summery fee lof the makeup.
Start with Dust, a soft pink metallic shadow. Buff it over the inner corner of the lid and half way across.
Next, add a wash of Buzz, a bronze pink shade, across the outer edge of your eyelid, as in the middle picture above.
Finally, contour the eye with Nooner, a warm matte pinkish brown. Run this through the crease of the lid (where your eyelid folds when you open it).
To define the eye and add drama, I'm adding some cat eye liner. If you're a beginner, this tutorial should help. I'm using Laura Mercier gel liner on a pinpoint liner brush. If gel liner is too much for you, smudge some kohl along the lashline for a similar effect. Finish the eye with a couple of generous coats of volumising mascara.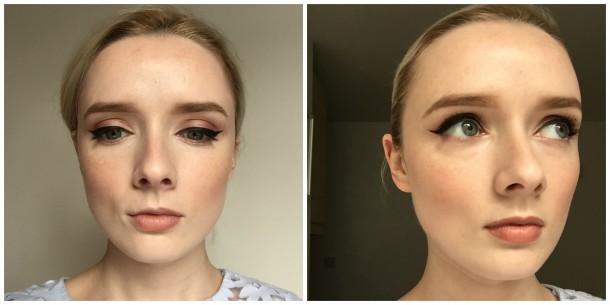 Step Three
To the face! For creating a softly sunkissed face, all you need is one really great bronzer. I prefer liquids to powders as they tend to be glowier and less reliant on glitter. They're also more buildable and won't clump your base.
Armani Fluid Sheer in No.17 is a revelation for pale people, because it mimics the actual shade that pale skin goes in the sun. It has a bronze hue with a slightly red undertone, but don't worry, you won't be turning red any time soon.
I've added a touch to the back of my hand, and I'm buffing it in with a fluffy brush. The Real Techniques Expert Face Brush is ideal.
To increase the natural look of the sun, I'm skipping blush altogether, and just adding the bronzer to the apples of my cheeks, pulling it back toward the cheekbone. Then, I'm buffing it where the sun naturally hits - across the top of the forehead and, most importantly for a natural finish, across the bridge of the nose.
Keep building until you're happy with the finish, but rest assured that the fluid sheer is sheer enough to look natural.
I'm finishing with a complimentary lip - I've lined my lips with Subculture lip pencil from Mac, and finished with Shiseido Perfect Rouge Lipstick in PK354.
Just for comparison, here I am at my usual winter palest, versus the slightly bronzed summer look! This look isn't reliant on any particular products - you can use whatever you have lying around.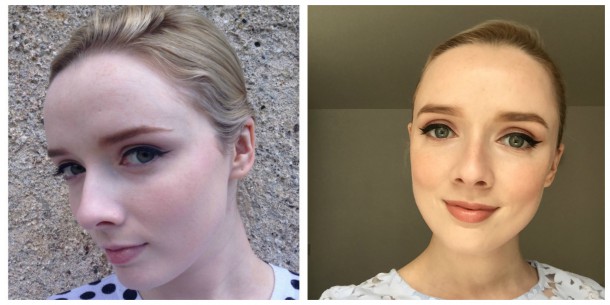 Advertised
What are your feelings on bronzing? To the comments!