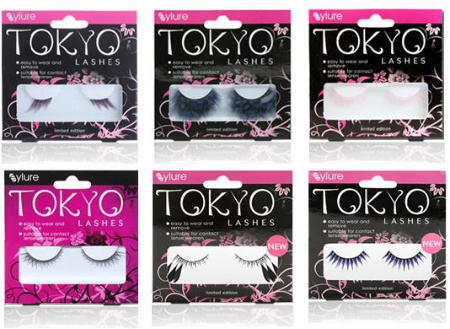 Did you know that Eylure are the people behind some of the most well-known wide-eyed looks ever? Me neither, but apparently they're the crowd responsible for creating the super-fluttery lashes of Twiggy, Jane Fonda in Barbarella, and one Ms. Elizabeth Taylor in Cleopatra, if you don't mind.
That's today's History Of Beauty lesson out of the way, then. Anyways, Eyelure have taken inspiration from funky fashion capital Tokyo to create this eponymous range, and all the lashes have decidedly Japanese-y names. Hiroko are purple and black corner lashes, Yuko are full-on feathery affairs which come in either blue or green, Yoshe are very fine and pink and a bit scary looking, Keiko are dainty criss-crossed lashes which flare out, Masako are black lashes with three small individual feathers on their outer corners, while Toshiko are long blue lashes criss-crossed by shorter black ones. A seventh version, Chio, are also available, they're very natural black full-strip lashes, too similar to any non-Tokyo lashes for me to treat you to a pic.
Advertised
Phew! So lots of choice there for anyone looking for Something A Bit Different to adorn their lashes, and the best bit is that they're really reasonably priced, costing around a tenner, and are widely available in Boots, larger pharmacies, and even online via ASOS.com.