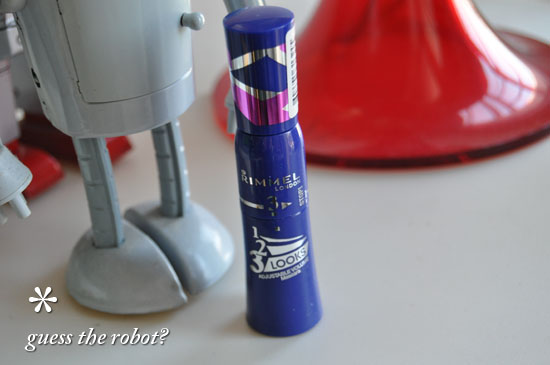 Being the excitable type, anything new and fancy to arrive in a padded envelope invariably elicits a squeal-response. So it was with Rimmel's twisty-turny 1-2-3 Looks Mascara, which I previewed a couple of weeks ago. As a quick re-cap (check the link for the low-down), this is a volumising mascara at the low-to-middle end of the market promising varying levels of volume, via a twist-mechanism.
Now that I've used it, is it actually any cop?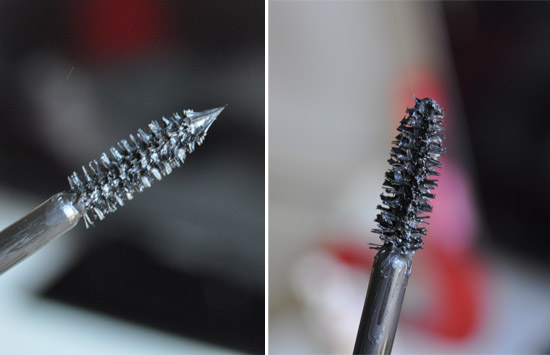 Before and after shots of the wand - left is it wiped as clean as I can get it, right is it coated as it would be at level one of twistyness.  To be honest, this twist-up lark is a gimmick. I really didn't notice any difference in my lashes when I applied the mascara after dialling up the three levels. I mean, who only uses one coat of mascara anyway? Eh, not me, girl'fren.
Advertised
So, while the 1-2-3 thing is a selling point, it doesn't really bring anything to the party that applying a couple of coats won't achieve anyway. Nice idea, and I'm sure a good hook to flog the mascara on, but at the end of the day, no one will ever buy another one of these if the first one is crap.
It's not, by the way. For the price, €9.91, this is a very good volumiser. It can be hard to get mascara that delivers decent volume at the lower end of the market and I've routinely been disappointed with cheaper ones that make the claim. This actually does it, and it does it without nasty clumps too.
But it is I think, a mascara best kept for night. When layered on thickly, it can make lashes feel crunchy and it does shed down cheeks a bit after a few hours of wear; the bog-brush type wand also splashes back on lids a little. So, keep it for dramatic night time makeup - it is a stellar smokey eye accompaniment - and for when you want va-va-voom volume, because this is precisely what it's best at.
And that for under a tenner? Not bad Rimmel, not bad at all.