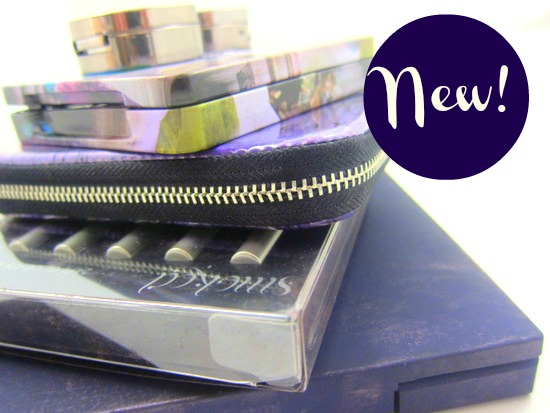 I have two younger sisters and whenever I'm stuck for a pressie idea for them, I turn to Urban Decay. Their palettes have never let me down - quality is consistently high and you can be assured of good value for the amount of product  that you get. Today we're taking a look at some of their holiday releases - if you still have women on your list to buy for, you could do a lot worse than picking up any of these.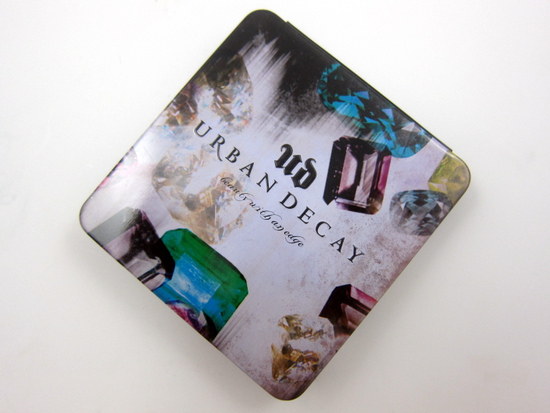 Build Your Own 4-Pan Palette - Rock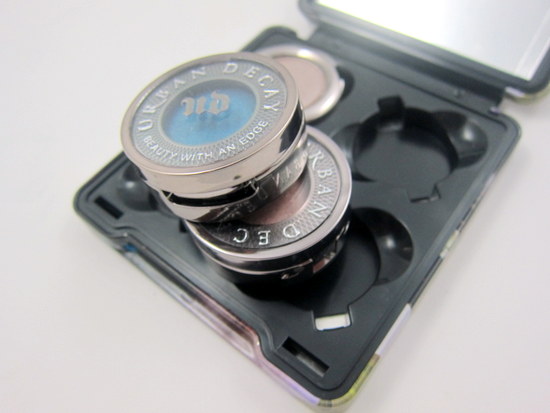 We love the concept behind the brand's Build Your Own palettes and, right in time for Christmas, they've launched two 4-pan varieties.  These are brilliant - for the price of a single shadow (€17), you get a universally flattering neutral in a cute little palette with three empty spaces, just waiting to be filled with your favourite shades. Choose from Melt, a shimmery peach, or Rock, a sparkly taupe, and take it from there!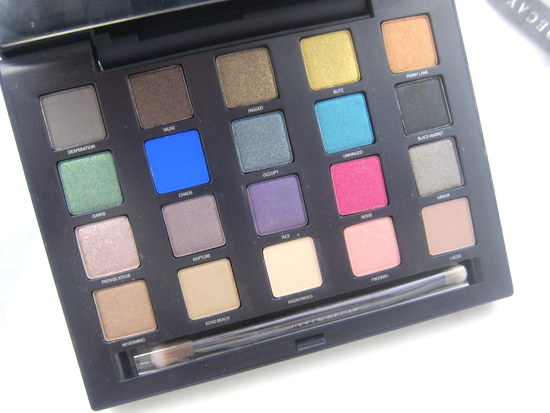 Vice is the perfect all-occasion palette with 20 brand new shades, ranging from bright pink (Noise) and sparkly green (Junkie) to neutrals like Nevermind (pale golden brown) and Laced (a light warm brown).  It comes in a sturdy purple plastic case, topped with a jewelled 'UD'. If the outside of mine looks a little grubby, it's cos a single shadow the brand sent me shattered in transit (I'm still in mourning). This is €47 which, cost per shadow, is a pretty sweet deal.
Advertised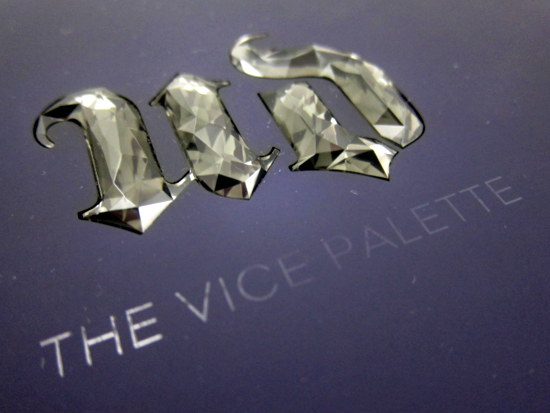 Whether you own the Smoked palette or not, I think you're gonna love the Smoked 24/7 Glide-On Eye Pencil Set. The formula on these babies is just divine - they're so creamy, there's no drag at all and you have some play time, but once they set they won't budge. To top it all off, they're waterproof and come in six gorgeous shades: Demolition (matte darkest chocolate brown), Empire (matte dark purple) Mainline  (matte peacock blue), Smog (my favourite, a metallic copper), Uzi (gunmetal grey with silver micro-glitter) and Zero, their classic black. This set's €32 from Debenhams.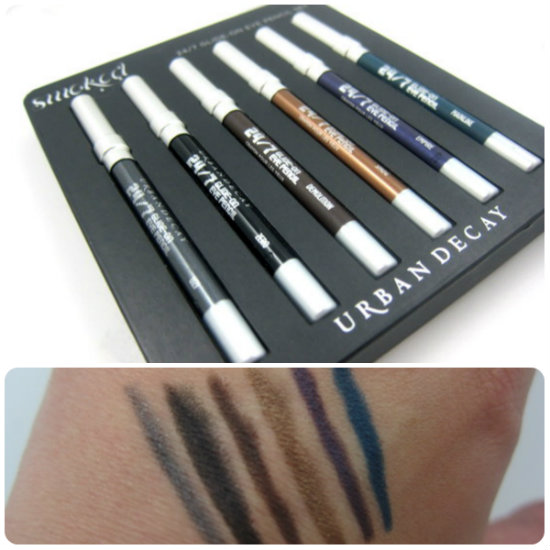 Finally the brand has also released three zip-around six shadow palettes that each reflect a different side of your personality. Choose from Feminine (see below), Dangerous or Fun - each one comes with a mini Lip Junkie gloss for €34. Now  I haven't swatched everything in this post because we'd be here all week, but to demonstrate the incredible pigmentation and pay-off that's characteristic of this brand, I've lightly touched three of the shades and then blended them out on my hand. One touch, people. One. The word amazeballs was probably coined to describe an Urban Decay eyeshadow.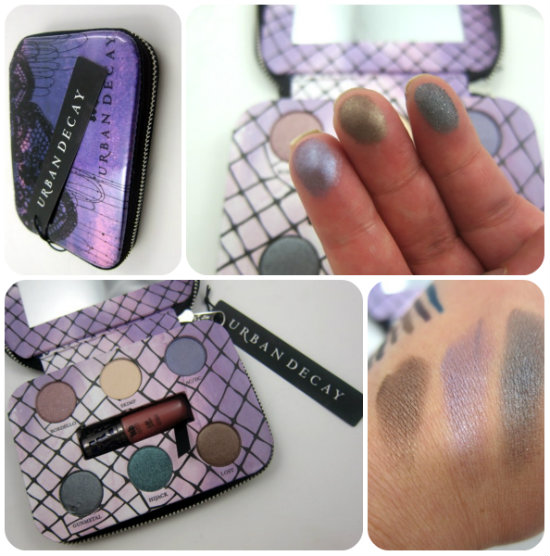 Feminine palette: swatched AC/DC (cool greyed purple), Lost (bronzey brown) and Gunmetal (grey with silver micro-shimmer). Also comes with Bordello (mauve with gold micro-shimmer), Skimp (peachy beige highlight colour), Hijack (metallic teal) and Lip Junkie in Wallflower.
Have you tried anything here yourself? Anything you want to see more of? What's your pick of the bunch? Quick, to the comments!
Advertised
Get Beaut.ie Delivered
Stay updated with Beaut.ie newsletters full of the latest happenings at Beaut.ie as well as great offers and things we think you might find interesting .