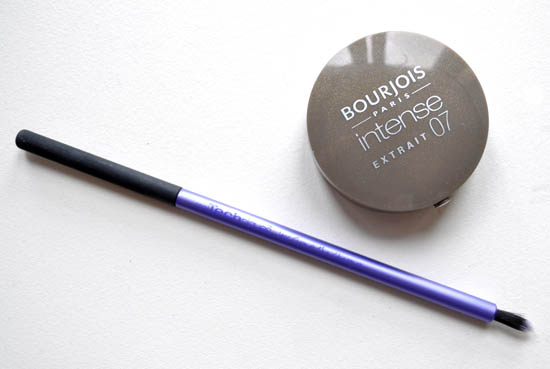 Bourjois Little Round Pot Intense eyeshadows, €10.49, launched in June and are a new take on the brand's existing Little Round Pots in that they've got amped-up pigment in creamy matte, shimmer and glitter formulas. They deliver too (check this post for swatches of the 10 shades in the lineup), and the fact you can use them wet or dry adds some extra value as well.
Lots of brands claim that their shadows can be used with water but it's generally as a defense against poor pigmentation. If you actually do it, you find the part of the shadow pan you wet becomes rock hard and unusable. So, how do the Little Round Pot Intenses fare when you add some aqua to the mix?
Really well, you'll be pleased to hear. There is a new breed of colour that is actually developed for use with water - YSL's Pure Chromatics and Clarins' new Ombre Minerale 4 Couleurs are two more examples  - and these well-priced pots fit right into it. I've been using shade 07, a mostly matte deep cool brown with very subtle gold shimmer, a lot since the collection landed for testing.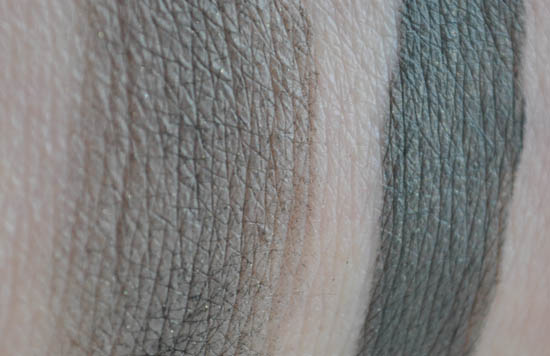 07 swatched dry (left) and wet (right)
This colour is as nice used dry (I use it in the crease a lot for daytime makeup and it applies and blends excellently) as it is wet, and when you dampen a brush, it creates a stellar liner.
Advertised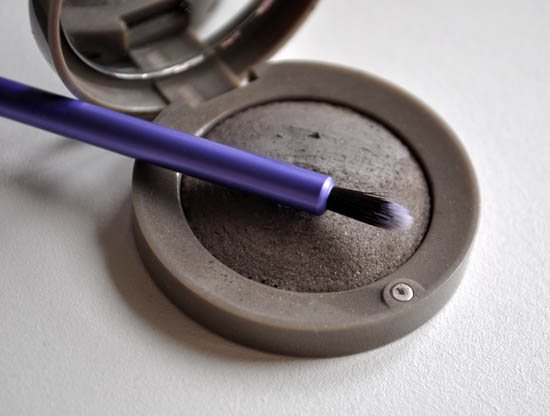 Here's what I do: I wet the brush under the tap and then mix it straight into the pan. You can get the bristles nice and wet and mix a decent amount of liquid in here, there's no problem with that, in fact it works well to have a decently soaked brush so you get a nice thick mix that won't drag on the eye as you apply. There's no difference with the shadow afterwards, and no area you can't use again.
The brush I'm using, by the way, is one of the Samantha Chapman (she of Pixiwoo fame) brushes for Real Techniques. I bought the starter set and have very mixed feelings about it, which I have equally mixed feelings about. I wish I loved the lot, but I don't.  This is one of the better brushes in the quint and while it's quite over-sized and oddly shaped for a liner brush, it works well. Because it's got synthetic bristles, it's great with wet products, so it's excellent for use with these shadows.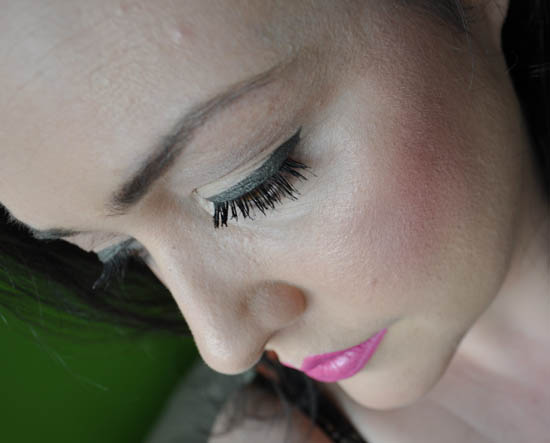 That's it on my eye - yes, I have a drag queen-amount of slap on, but this makeup was done because I was going to be in front of a camera at an event, so I needed to be a bit more exaggeratedly covered than I normally like and prefer to be. Sure that's my excuse and I'm sticking to it.  Lips are OCC Lip Tar in Pageant and mascara is my beloved Lancome Hypnose Drama, for those interested. Foundation is Nars Sheer Glow; blush is Benefit Coralista.
Used wet as a liner, this is a performer, no two ways about it. The Little Round Pots absolutely work wet and are easy to paint on with a brush, they're opaque, set in seconds and don't smudge or flake (in my experience, bearing in mind I'd have dry lids).
Advertised
Two-for-one shadow and liner for €10.49 is a good deal if you ask me - my next trick is to use some of the other colours in the collection in the same way. If you've indulged in Bourjois' Little Round Pot Intense, have you used them wet yet?