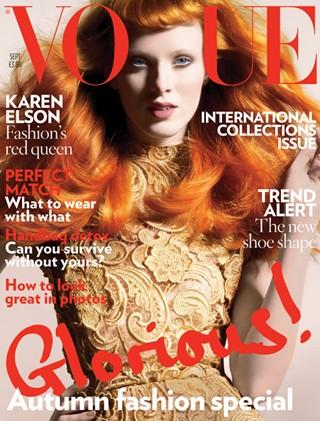 Typical, isn't it? Just as I decide that red is far too high maintenance a hair colour for me, the September issue of UK Vogue declares it to be bang on trend for AW 2008/09. Bah.
If you're thinking of becoming a flame-haired vixen (and I've seen from my out-of-office-hours perusals of the Blather that many of you are), I say - feckin' go for it! Go as red as you dare, whether your inspiration is Jonathan Ross's missus or Julianne Moore or Bosco circa 1984. Forget all that talk about blondes having more fun, redheads get all the attention, and it's much easier to keep it looking glossy and gorgeous.
Be prepared, though, to become completely obsessed with colour protect shampoos and conditioners and despair at how quickly it fades: there is a lot of work and upkeep involved in making sure your not-naturally-red locks keep their colour for any length of time. Heat is a major factor in red hair fade: that means GHDs, hairdryers, and too-hot water will all affect it. So will being in the sun, but chance would be a fine thing! You should also check your styling products to make sure they're for chemically treated or coloured hair.
Advertised
Oh and remember, it's only hair, people: you can always go back to your roots if you decide you hate it!