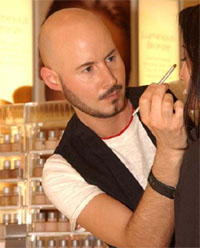 Gary Brunker, yer man on the right there, is a Prescriptives International makeup artist. He's decided to share some of his secrets for the perfect smokey eye, and jaysis lads, not before time, because this is one look most of us struggle to get right, - if it's not all weird and hard edged, half of it's down our cheeks. Oh, I swear I despair. Or, I did, before I read his advice.
So, what does Gary require us to do?
The secret to creaseless eye shadow is using an oil-free base, Super Line Preventor Xtreme (€58) works great as a eye primer.
Prepare the eyelid with a touch of foundation setting it with a small amount of powder. Apply Colourscope Creamy Eyecolor in Smoking Gun (€24) in line with your pupil and gently blend outwards up to the crease.
Gently pat in your chosen eye shadow at the lash line, this technique helps seal in colour and lasts longer.
Now it's time to begin blending. Always start at the lash line working your way up towards the crease. Blending is key! For a professional finish gently blend Colorscope Eyecolour in White Wash (€15) into the hard edges. TIP: You shouldn't be able to see where one colour finishes and the other begins.
Apply an eyeliner of your choice, for this look I prefer a soft kohl pencil as it is easier to smudge into the eye shadow.
Finish with several coats of Here-to-Stay 24Hr Mascara (€25) for gorgeous, defined lashes and long lasting colour…all night!
Advertised
Excellente - and psst - if you're on more of a lemonade budget, sure you could always cheat and use ahem, other products too. But a big tip on the Here to Stay Mascara - it's GREAT, loving it.