 Radiant Creamy Concealer from Nars is my all-time favourite. There's just something about it which makes it different from every other concealer I've used. It's the one high-end product that I've consistently repurchased every time I've run out of it. I shudder at the thought of how much money I've spent on it since its launch in 2013, but nothing compares to it, so back I go to the Nars counter every few months for a new one.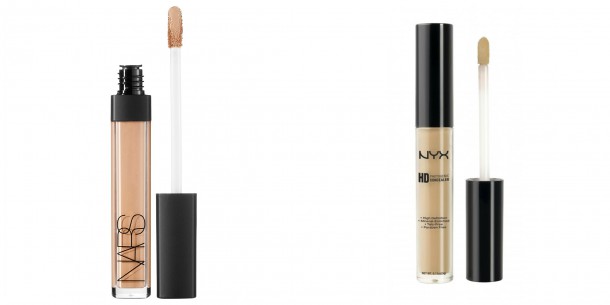 Though Urban Decay's new Naked Skin Concealer (read Miriam's review here) is a pretty similar product, it's still relatively pricey at €21, even if it is less expensive than the Nars version, which retails at €28.
Still, sometimes your budget won't budge, and blemishes don't stop sprouting forth from chins just because you're a bit strapped for cash. Though it isn't a perfect dupe, NYX HD Concealer is pretty close, and will set you back just €6.99.
Advertised
As you can see above, the NYX version is pinker and slightly thinner in consistency than Nars Radiant Creamy Concealer, but they leave a similar finish. Both offer a great shade range, and both blend beautifully, offering high, buildable coverage without leaving a flat finish. They both work equally well under eyes or on blemishes. When I can't have my favourite from Nars, I reach for the NYX every time.
Have you used either of these products, and do you find that you spend more on concealer than anything else, or is that just me? To the comments!