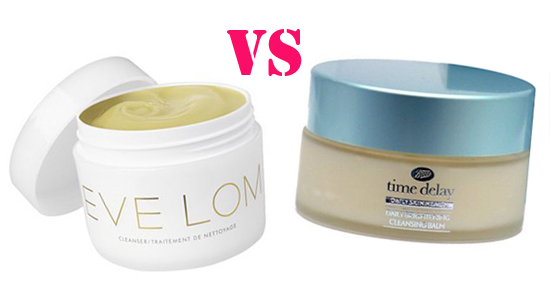 So, I was whining away there recently about being at the end of my pot of beloved Eve Lom cleanser and not feeling flush enough to replace it at the moment. This prompted a slew of comments, from those of you who share my love of it, to those of you who find it bafflingly gross.
Kellbell went one further: "I'm probably going to be crucified for this by Eve Lom lovers but I can't quite understand the price of this product bearing in mind that it's mineral oil and lanolin based," she said, adding "surely any cheaper product with basically the same ingredients used in the same way - muslin cloth etc would do the same job?"
Fair point, well made. With that challenge in mind, I decided to try out Boots' Time Delay version. Billed as a 'Daily Brightening Cleansing Balm', it's already got one up on Eve Lom's version by virtue of the fact it contains retinyl palmitate - the same active ingredient that's in Boots' Protect & Perfect products. The other massive point of difference in its favour is price: Eve Lom cleanser is about €72 for 100ml; Time Delay is €10.49 for the same amount, and includes two muslin cloths.
So, on to the smell of the Boots product: I'm not too keen. It's a sort of floriental scent that I wouldn't go for in a fragrance. Conversely, I love the smell of Eve Lom Cleanser, with its eucalyptus, clovey scent.
Advertised
Consistency is another point of difference: Time Delay feels greasier to the touch - much more like Vaseline. While the two main ingredients in both are mineral oil and petrolatum, for some reason, the Eve Lom version - while tacky - isn't as stickily slippy on the hands. You need hotter water to get Time Delay off, and I'm not sure that's a good thing, especially for rosacea-prone or sensitive types.
But the real acid test is of course, how well it works. Time Delay balm massages into skin well, you need very little, and it definitely does remove makeup and grime. But it has a small bit of a problem with waterproof or long-wear formulas: for example, to effectively remove my Too Face Shadow Insurance + Barry M'd eyes, I had to get back out the Eve Lom version and do them using it, as I wasn't able to remove all traces without really rubbing the Boots product into my eyes. Which stung. Ouch.
I've said before it's not necessarily a gripe if a cleanser can't handle waterproof eye makeup formulas, after all, that's what removers like Clinique's Take The Day Off are for. But as a long-time user of pretty much exclusively oil-based facial cleansers, I, y'know, do expect them to be able to handle it. On a normal day, Time Delay is more than fine; but for 'occasion' makeup, it doesn't cut it. Eve Lom cleanser, on the other hand, comes up trumps for me all of the time.
In conclusion, dear readers of Beaut.ie, I would have to say that if you'd never used Eve Lom cleanser then you would probably think the Time Delay version is brilliant. And it is effective, don't get me wrong - it's just that I can't go back, now that I've used the best there is.
Given the similarities in their makeup, all I can think is that the magic ingredient in Eve Lom cleanser is just that: MAGIC.