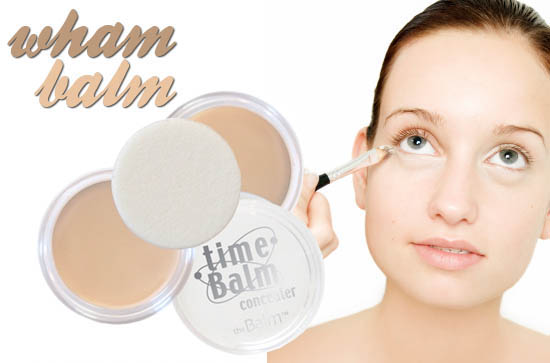 I'd been lusting after Time Balm for ages before finally picking it up in Sephora in Las Vegas during the summer. It's a double duty concealer/eyecare product from kitschy American brand The Balm, billed as an anti-aging undereye concealer that effectively camoflauges dark circles while protecting the area from environmental stresses. Loaded with Vitamins A, C, and E, soybean oil, linoleic acid and phospholipids, the idea is that you can wear it day or night since it's supposed to function as an eyecream as well as a concealer.
Well, I wasn't interested in its credentials as make-up to sleep in. Nope, I wanted it because the rave blogger reviews it had been receiving all said that it was the shizz for covering serious dark circles, and I was after something heavy duty to take the panda edge off my undereye area.
First impressions didn't knock my socks off: Time Balm comes in a small clear screw-lid plastic jar, the sort of container you might buy in Boots or M&S to decant some foundation into before your hols. Absolutely no frills, fuss or fanfare there, which fans of The Balm's usually Benefit-esque packaging might find disappointing.
Advertised
It looks fairly solid in the jar, but the texture is actually creamy when applied either with the supplied circular sponge or a brush. It blends well and, to be fair, does a good job of covering dark circles initially.
However, on me it started to look chalky and settle into fine lines after only a couple of hours, which kind of takes away from its abilities as a dark circle cover-up as far as I'm concerned. Maybe the idea is to create a distraction, drawing the eye away from the dark circles themselves?
Whatever it is, I'll (hopefully) be back to Bobbi come Christmas morning!