 Yeah, that's right: camouflage and lace. Don't run away, hear us out.
While it may seem like the most random combo ever, it's not. It's clever. Very clever. Lace has made a big comeback over the past few seasons, mid-length is the skirt length of this and next season, and the nineties revival is just about at Spice Girls level, which means, come autumn we'll be entering All Saints territory. And what does that mean? Camouflage.
Don't worry; the skirt is not made from tent material, nor does it resemble something a Duck Dynasty cast member might wear. It's got an abstract vibe going on, and from the look of it, it's going to be flattering on most figures.
We'd style it simply, with cage heels and a black cami, and we'd go easy on the hair and makeup. Get this now and we promise, you will be way ahead of the curve.
Advertised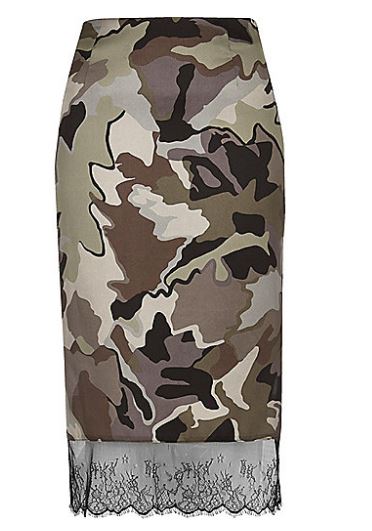 The skirt's from River Island, it costs €37.00, and it's much nicer than you imagined it to be, isn't it?
Do you think your ready for a camouflage resurgence? Or should it be left in the wild?