 Playing fast and loose with the term "organic" is one of my bugbears.  Ever since cosmetic companies realised consumer appetite for pure and natural products had reached an all time high they went hell for leather creating "green" versions of their products.
And most of them did it in the cheapest and most unethical way possible.
It's a sad fact that all organically labelled products are not created equal.  Far from it in fact - sometimes all it takes for a product to declare itself "organic" is a minuscule 1% of the ingredients making the cut.
So basically anyone can and does claim that their product is as pure as newly fallen snow.
Irish brand Tan Organic is completely different. Firstly it won't turn you orange and secondly it smells MUCH nicer than most tans due to the high concentration of Aloe Vera juice it contains.    It's the only tan in the world - yes you read that right - the whole world -  that is completely organic,  natural and cruelty free. It holds a prized Eco Cert - a process which takes 18 months of testing, auditing and analysis before the prized stamp can be proudly placed on every bottle of product.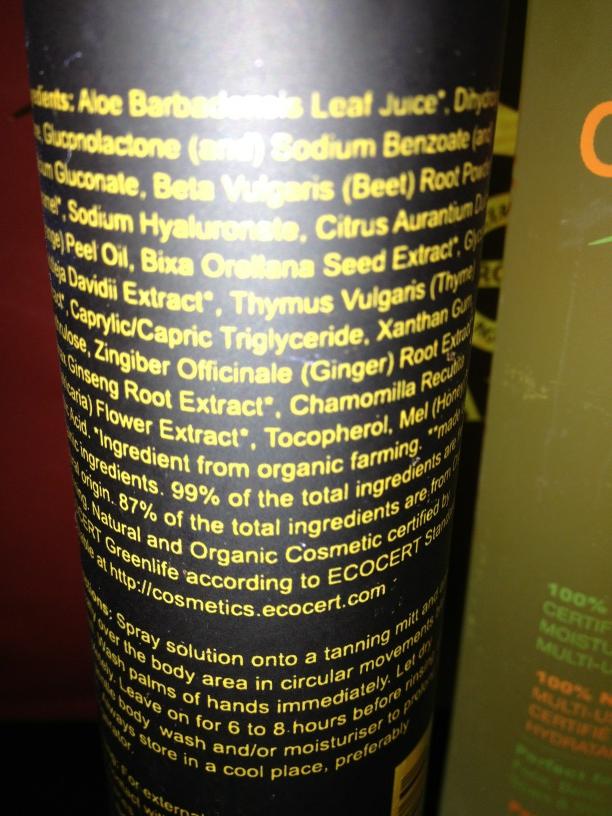 Sorry for the shine on the photo, I'll put up better ones later
Advertised
We've tested out the tan before - have a look here and were impressed  - but it's been further improved since then.  We'll review it again and give you more of the gen, but today I want to give you a little heads up on the OilArganic Dry Oil.
Give it a few strong pumps the first time you use it, the cap is a little stiff, but after that you're away on a hack.  It smells citrussy (well to my nose anyway, a quick read of the press pack told me it smells of roses) and is divinely nourishing and moisturising.  I love dry oils anyway but this one is a little more special with 8 organically sourced plant ingredients and vitamin E.
It feels "wetter" when it first goes on, especially if you're comparing it to something like Nuxe, but soon settles down and is quickly and non greasily absorbed.  The ingredients are all ethically sourced and organic (of course, because this product has the Eco Cert too).  The last time we reviewed this product (read about it here) there was no Eco Cert and just like the tan the ingredients have improved.
Pure oils like this are absolutely perfect for scars, stretch marks, skin imperfections and a host of other skin issue (even eczema and psoriasis ).  And if you just want to lash it on after the shower?  Well that's what I'm using mine for and loving it. At the moment it's on special offer - if you buy the oil you get the tan free (€19.99).
And now it's your chance to get in on the action - read on!
THE PRIZE: We have FIVE TanOrganic/OilArganic goodie bags to give away!
HOW TO ENTER: Simply leave a comment on this post
THE RULES: This competition is open internationally, you must be over 18, one entry per person, no cash alternative is possible and our decision is final.  The competition closes on 14 Oct 2012.
Good Luck!
Advertised