 Estee Lauder continues to take over the cosmetics industry as we know it. Nothing will stop the brand's portfolio expanding at the seams with all things beauty, makeup and hair related.
Mac, Bobbi Brown, Aveda, Jo Malone, Clinique, La Mer, Tom Ford, Becca, Smashbox and Glam Glow are all part of the ever-growing Estee Lauder family.
And the latest and greatest addition to the family is...
Too Faced.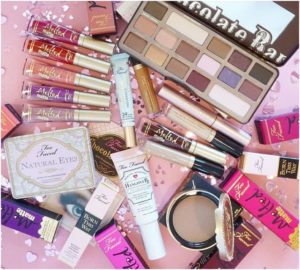 If you are already a fan of Too Faced products you will know they're must-have products:
Advertised
The Chocolate Bar palette (which genuinely smells like chocolate)
Melted matte liquid lipsticks
Better than Sex mascara
The decision to take the brand on board was due to the huge rise in social influencers and bloggers and their recommendation of the brand. Too Faced has 7.3 million followers on Instagram, compared to Estée Lauder's 1.4 million, Bobbi Brown's 1.8 million and Smashbox's 2.3 million.
The decision to take on Too Faced, for a purchase price of approximately $1.45 billion, is clearly to appeal to the younger generation of "millennials" and "Gen Z", the generations who are influenced by social media and beauty influencers on YouTube.
Its revenue is expected to reach $270 million this year alone and is on a steady incline. Nice move, Estée Lauder.
Wouldn't you like to be the creators of the brand right about now?