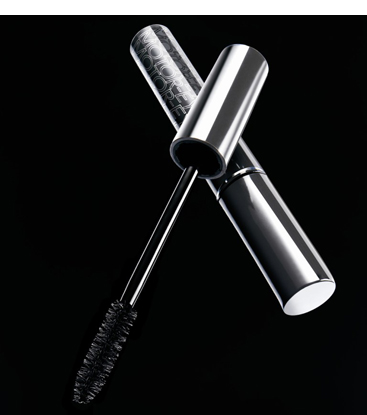 Opening the box Prescriptives' Motor-Eyes comes in, I'll admit to being a bit surprised. Not at the product, it's just that I'd really thought that the next whizzy mascara I tried would be incoming from a budget brand, and while Maybelline are on the case with Pulse Perfection in the US, nothing's trickled over here yet.
Still, you certainly can't look a gift buzzing mascara in the mouth, so off I went. Much like Maybelline's Lash Stiletto, I was a bit non-plussed to begin with, until the penny dropped and I copped that this isn't another Lancome Oscillation, which I won't be parted from for thick, thick, thick black lashes.
Motor-Eyes doesn't give you chunky definition; instead it separates lashes and lengthens them upwards. Where Oscillation is all up in yer face waving its finger like Mick Jagger, this boyo is restrained elegance. Monroe vs Hepburn; brash vs demure, if you will. It's much more like its Estee Lauder Turbo Lash cousin, and if you're abundant of lash already, then you'll like this a lot. I'm not sure how well sparser-lashed gals who prefer a volumising formula might get on with it, but the product does build very well, with no clumps and bumps.
Advertised
For me, Motor-Eyes is great for day wear, and of course, completely fool-proof. This is where vibrating formulas come all into their own, I think. The buzzing powers away any whiff of a clump, so no matter how many layers you use, the result is always good.
At €38, it ain't cheap - well, none of them are - so it's a good pressie to get or give.