 We recently took a look at the Beyoncé X Topshop athleisure collab where Queen Bey made looking sweaty look good.
Now, she may have chosen to wear hers hanging off a load of old rusty hoops (yeah, that does sound odd when I put it like that) but us mere mortals will be like that young one in the background of the pic below, doing some stretches against the wall in case the leggings have some see-through type quality to them. And trust me, the See-Through Squat Test (STST ™) is a real thing in our gym lives.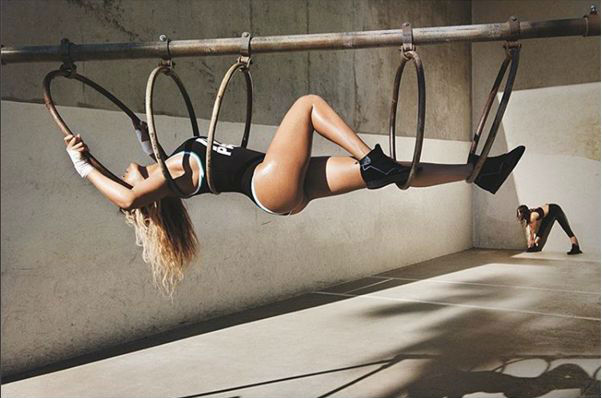 The collection launched on Net-a-Porter this morning and I've chosen three pieces that I want to throw into my online basket.
Please note that I have excluded all bra tops and bralets from this selection because if your bra size is DD, then you should never buy sports bras from the internet. You should try on about 19 of them in the shop, have a little cry on the floor and then buy the last one you tried on because you physically can't get out of it in the changing room. It's ok, John the Assistant Manager, just scan it there while I'm wearing it, I'll cut myself out of it later.
No, John, that's not where the price tag is located.
And that's not a scanner.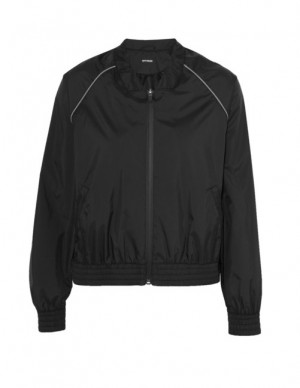 The first piece I would like in my wardrobe is this printed shell bomber jacket (€75).
Bomber jackets are already a huge trend and as SS16 progresses, they are going to be everywhere. The priest is going wear them under his vestments, Enda Kenny is going to wear one in the Dáil, Francis Brennan is going to sell a range with his face emblazoned on the back.
But I'm going to wear this Ivy Park one because it works with sportswear or with skinny crop jeans and my black Elite Shinsen Nikes (I'm obsessed by these runners).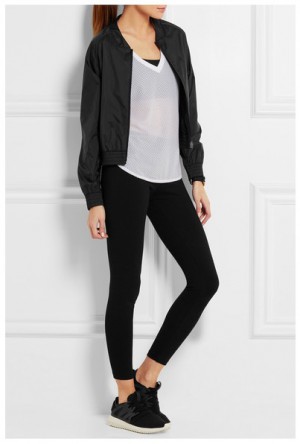 Next up is this mesh and stretch-jersey bodysuit (€90) which I know will have some people raising eyebrows and wondering what kind of an oddbod I am. A bodysuit at the gym? What about the risk of chaffing related injury? Don't worry, there is unassailable logic to my choice.
And if you do happen to do yourself a chaffing mischief, you can always head back in to see John the Assistant Manager who will be able to sell you something to help you out.
Advertised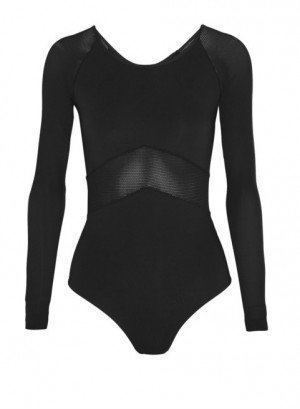 The bodysuit is actually cut very low on both the back and front and it's made of a stretch jersey so the fit is soft and it moves with you.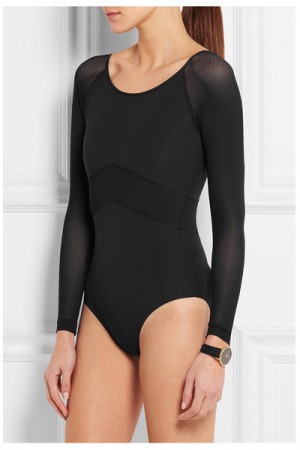 I would throw this in with my yoga and pilates gear because t-shirts and loose tanks don't cut it when you are trying to hold positions that basically involve you being upside down. Sorry, there, I think my sports bra is also getting involved in Plow Pose.
But if you are a fan of hot yoga, the sleeves on this won't be your friend, best to stick the lightest cotton you have.
And my final pick is this €40 cropped stretch-jersey and mesh top. It has breathable mesh sleeves and a softly elasticated hem so you know it will actually make an effort at staying in place.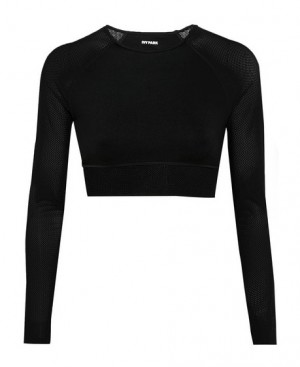 It's again ideal for lighter yoga, pilates or dance. Or if you're going for an easy run in the evening, this will keep you warm while making sure you actually train because your abs are on show. Though personally I prefer how it's styled with higher waisted leggings in the picture below; enough style to make me feel like I am Beyoncé, enough material to make it wearable.
Just don't tell your mother; she won't be happy with the kidneys-in-the-open-air thing.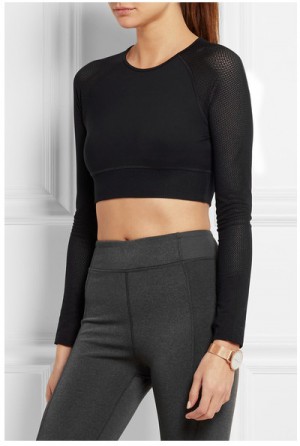 Advertised
Are any of these pieces catching your eye? Do you buy sports gear on line and what sites do you rate? Or do you still bear the scars of that sports bra you bought that left actual welts on your skin?