 Every so often a season comes along that makes me wish I had a walk-in shoe room, or at least a dedicated shoe wardrobe. Turns out that this autumn/winter is just such a season; I seriously can't remember the last winter that put the goo for new shoes on me like this one.
I'm trying to be frugal and resist the urge to splurge, but I don't think my credit card could really blame me if I had a weak moment.
I mean, just look at some of the loveliness that's on offer...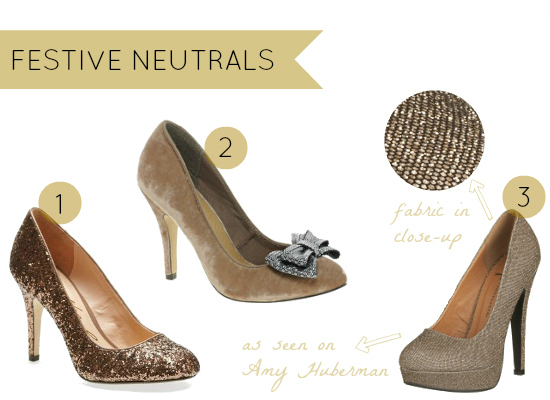 ONE
There's something very Kate Spade about these glittering almond-toe glitter courts from Next (€34), which look as good with jeans as they do with party frocks. And if the bronze colourway doesn't float your boat, not to worry: they come in black or navy, too.
TWO
Velvet? Check. Bow? Check. Sequins? Check! ASOS have ticked all the Christmas shoe boxes with these luxe lovelies, which are available in black with gold bow detail as well as the mink and silver pictured above.
Advertised
THREE
Within literally seconds of Amy Huberman appearing on The Late Late recently, my Twitter feed exploded with excited chatter about her shoes. The Hubes herself tweeted that they were from Penneys, and after a little detective work I deduced that they were these textile-covered gold numbers (€18.) They don't look the most comfortable, but they mustn't be too bad if a 6-months-pregnant lady can manage them!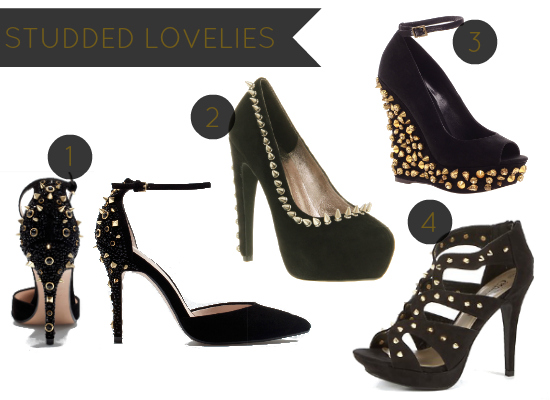 ONE
Zara stilettos always look super elegant, and these studded jewelled numbers (€99.95) are no exception. Combining chic with cool, they're undoubtedly things of extreme beauty but for me they'd strictly be car shoes. There's no way I'd ever manage to make it to a bar in these!
TWO
No round-up of studded shoes would be complete without at least one pair from Jeffrey Campbell. These are down to £45 at Office and in addition to boasting some truly superior spikiness - how great are those heels? - have a decent concealed platform.
THREE
Finding on-trend wedges that are slinky enough for evening wear can be a challenge, but I think Carvela have it nailed. At €215, these aren't cheap but they are as deadly as all get out.
Advertised
FOUR
There might not be much heat going astray in these cutout New Look sandals (€34.99), but they're plenty sexy without being slutty.
Have you seen any contenders for your Christmas shoe number one?