 Forget spending a fortune on suck you in squeeze you so tight you can't breathe knickers.
Forget Trinny and Susannah and Gok Wan(with his bleedin Banger Booster bra - yes really) and yer fancy Spanx. Early reports indicate that our budget stores have come to the rescue and Penneys shapewear knickers (the ones you can pull up practically to your neck) are coming in for rave reviews among every girl I know who's tried them.  So much for listening to all this guff about paying a fortune for your "foundation garments" eh?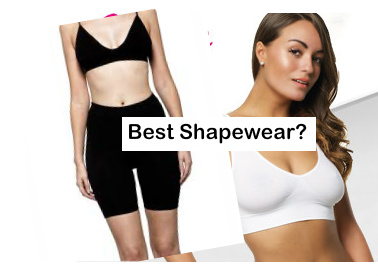 And JML have also been selling zillions of their Belvia Bra. Or BELVITA bra as I have noticed it being called a few times on the blather and this post (Is it Bra O'Clock yet: when can I take my uncomfortable bra off?).   I think we should adopt that as its real name actually.   JML do produce some of the funniest gadgets - many of them feet related (the Ped Egg is one) and they usually go down a storm because they're so cheap.
Advertised
But is the Belvita bra any good and should bigger cup sizes than a C invest?  Does it give enough support?
And where are you finding the best ladies undergarments to flatter your silhouette this season?
P.S. JML emailed me a while back asking did we want to try out the Belvia Bra and I forgot all about it.  But now I'm thinking - we could do a GAS trial!  We'd need Beaut.ies of all shapes and sizes  - don't let me forget about this one.