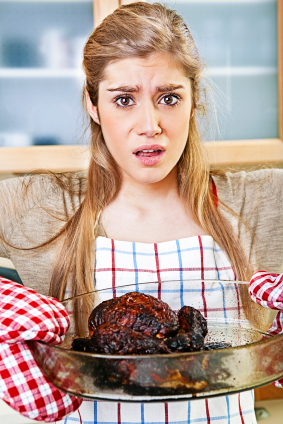 The foodies on Beaut.ie are putting me to shame. As you share recipes and tips for mouthwatering meals and yummy desserts I am sadly remined that I don't 'do' cooking.
My stews are made with Mealmaker mixes, cubes of stew beef from the butchers and frozen root vegetables. The height of the effort I go to is to chop up some mushrooms and an onion to go into it. The Le Crueset is my best friend - everything goes into the oven for three hours and comes out amazingly delicious.
My lasagne uses Dolmio for its sauce and my curries are no authentic blend of herbs and spices - they come straight from jars of Sharwoods. Oh and the rice is microwaved - the ultimate lazy shame. Soup in our house comes from a tin and while I occasionally toy with the idea of getting a breadmaker I just know it will be consigned to a cupboard and gather dust.
Advertised
As for deserts - nope, that just doesn't happen. Not while there's a Superquinn nearby who can do everything and do it better than I could ever hope to achieve.
When I made this confession the other night on Twitter the food bloggers kindly comforted me.
"Maybe your husband is a great cook" they wondered.
"Are you joking" I countered. "His signature dish is Donegal Catch and his signature vegetable is tinned peas"
So is the world divided into those who love to cook and those who don't? Which camp are you in?