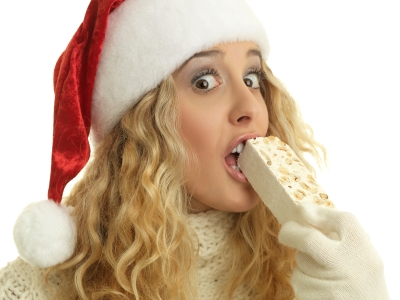 Staring down the barrel of a New Years Eve dressed in a muu muu, as I tore off the dress I was trying to squeeze into in the Karen Millen dressing room I realised that THE DIET MUST START. NOW.
Sorry for shouting but too many glasses of Baileys, far too many chocolates (bloody tin of Roses, damn you to HELL), bowls of delicious crisps, bottles of wine and a need to "finish up" the wheel of Brie and the mince pies  have led to an unfortunate situation.
Upon going to the sales yesterday to buy a dress for New Years Eve I found I no longer fitted into my size in anything.  Or the size up for that matter.
"It's just bloat" said my friend.  "I'm the same sure.  A week of not eating much will get you back to normal."
Hmmm.  Looking at her in her skinny jeans I seriously doubted that she had embraced holiday eating with such abandon as me.  However I decided she was probably right and I just needed to get back on track.  As you can see from Kirstie's earlier post (Put down the cheese), this is a pretty pressing New Years Resolution shared by many of us.  And to give you a bit of a start have a look at the Diet and Wellbeing Forum.  It's a mine of information with discussions on diet and fitness, lots of honest advice and real life experiences.
Advertised
All of these groups are active on Twitter and on the daily Blather too, join in, we'd love to see you in 2012!
And if anyone is interested in setting up their own Diet Diary on the forums and letting us know how they're getting on with regular updates - go ahead, we'd love to see it.
But for now - how the heck are you all feeling after Christmas?  As bloated as me?  Or were you not too bad?  Tell all!