 I have long been obsessed with fancy, smelly things. It all started back in my early school days when collecting 'fancy paper' was a thing. That collection then evolved into 'smelly soaps' (of which I had a vast collection on display in my room, none of which were ever to be used you understand), scented markers and even 'scratch and sniff' stickers. Oh yes, it was all going on in Dublin in the 80s.
My tastes have become somewhat more refined (or so I like to think) since then and one of my favourite indulgences is to treat myself and my home to a beautiful scented candle. As one friend recently said to me, 'I may live in a hovel, but it's a damn finely scented hovel!' (just to be clear, he actually doesn't live in a hovel but his inner propensity for dramatic delivery does make an appearance after a whiskey sour or three).
But here's the thing - I can't escape the feeling that I am 'literally' burning money when I light a candle. I have never stretched to the €100 that some people splash out on certain brands of luxury candles; there is no way that I could justify it. But some budget to mid-range candles can be so sickly sweet and overpowering that I imagine I'm back in Old Wes on a Friday night with the scent of cheap teenage perfume hanging heavy in the air.
I came across the brand Max Benjamin in Avoca a few years ago, attracted to their sleek packaging and array of scents. And hallelujah, the price tag attached was an affordable one and I've been a fan since; my home has been Max Benjamin-ified.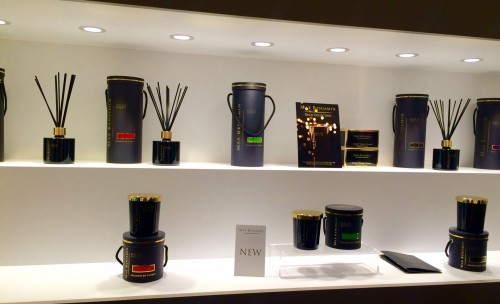 Since then I've seen the brand expand their Irish scent-pire into stores like Arnotts, Brown Thomas, Kilkenny Design and even The Loop in Dublin Airport. I've had the pleasure of meeting the brothers behind the brand, Mark and David Van den Bergh, at a number of press launches. And at the most recent one, I was bothering them with so many questions that they simply gave in and invited me to come down and see their factory, to get a behind the scenes glimpse at what goes on.
I set off on a sunny autumnal morning from Dublin and headed to their premises in Enniskerry.  They had warned me that it might be difficult to locate but I was confident that all would be well as I had lived in the Greystones area and thought I knew the lay of the land. More fool me.
I was surprised by the remote location of the factory and more interestingly, how breathtaking the scenery was. As I bumped along a boreen with grass between my wheels and praying my axle wasn't going to crack, I couldn't help but be blown away by the beauty of the area. It was a far cry from the wasteland that my office window looks out onto in the city centre; having a view like they do must be inspiring.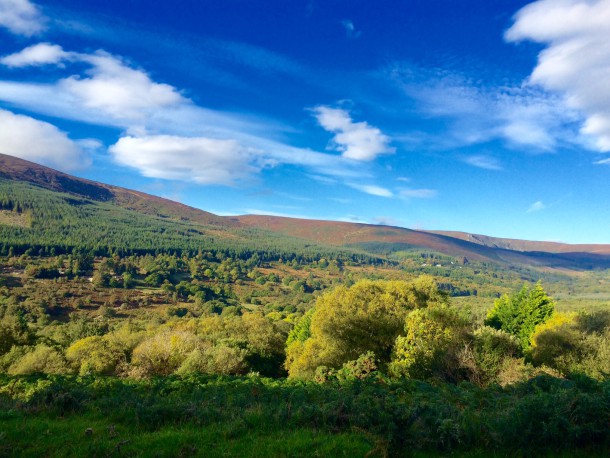 On my arrival, I was congratulated for having found it (I got lost on my way back but no one needs to know that). The factory is situated on the same property as their parent's home and that adds to the family feel of this brand.  Their sister Orla was in fact the person who began making the candles and it's her sons, their nephews Max and Benjamin, that provide the brand with its name.
I am made very welcome and felt at home instantly.  Their dog Danny, a bundle of energy, just adds to the idyllic scene. The entrance walk way is olfactory heaven with rows of scented candles, diffusers, hand/body washes and lotions, etc.
Advertised
A tour around the factory teaches me a lot in a very short time. For example, Max Benjamin candles only use beeswax, soy and coconut oil; no paraffin wax means none of that nasty black smoke that stains your walls. And it also means that the scented oil is not interfered with, as paraffin can add its own odour into the mix.  They also came up with an ingenious little 'widget' which is essentially a piece of metal that hold the wick in the dead centre of the candle as it's poured, meaning that the user gets an even burn all the way down.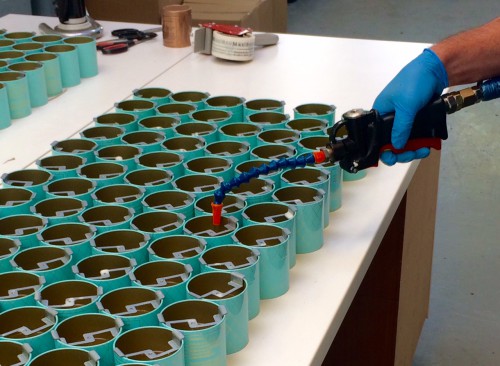 They can make up to 2,000 candles a day there, with all of the labeling done in Kildare. All told they are supporting almost 30 jobs and export around the world, making them a real Irish success story.
When conversation turns to the future, we discuss how gourmet scents are the new trend and also the upcoming distribution deals that they are looking into. The thing that stands out to me most is that this is one focused and driven family.
They are part of the new Irish design brigade, bringing the new face of Ireland to the world, less 'twee' and more 'chic'.
And nothing makes us happier than an Irish success story. Especially if there's a scented candle or fancy paper involved.
And to celebrate their recently launched their new Coffee Collection, we have the full set of five in the collection to give away! To enter simply leave a comment below and tell us what your favourite candle scent is.
TERMS AND CONDITIONS: You must be over 18 to enter, no cash alternative is possible, our decision is final, winner will be picked at random, open to ROI and NI residents only, competition will close on Monday 2nd November 2015 @11.59pm.
THIS COMPETITION IS NOW CLOSED.
Advertised
CONGRATS TO OUR WINNER DEBBIE CURTIN. WE WILL BE IN TOUCH VIA EMAIL TO ARRANGE DELIVERY.