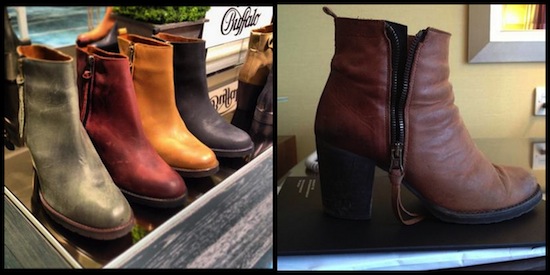 Meet the Bullet boot, an ankle boot by SixtySeven and available in Buffalo stores and concessions (namely in Arnotts), the boot I'm going to be remixing for you all today! It's a slight cheat on my part; I love these babies so much that I own four pairs: in black, brown (above right, and a little battered from all the wear), burgundy and white. They're a dead ringer for Acne's Pistol boots that were in vogue a few years back, and the comfiest heeled boots you will ever wear. Plus, they look great with jeans and dresses. So how will we make them work for their money? (€165-odd at last count - and in bright red and blue for spring/summer.)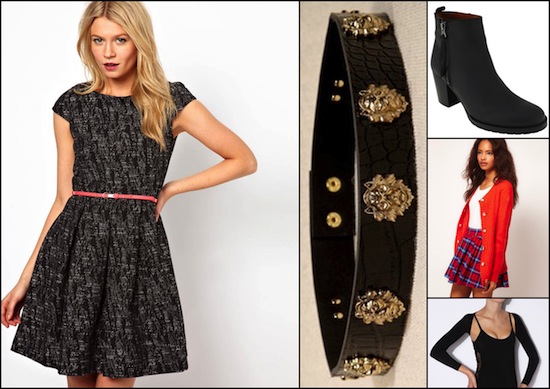 Starting with a casual daytime look that's suitable for the office, I frequently wear these boots with opaque tights and dresses. This skater-style dress by Oasis (at Asos.com for €41.67) is a really simple winter look - it's got enough heft that you won't freeze, but it's not exactly going to make you look dumpy, either, and the neon belt is a nice touch, although, personally, I'd be tempted to swap it out for this lovely number from Urban Outfitters (£18) for a slightly cooler touch. Because I hate being cold, I'd layer Charnos's Armery by Mary Portas (£21 on houseoffraser.co.uk) beneath my dress, to make sure my arms stayed snug (and, equally crucially, covered up). I'd wear them with a pair of grey tights to break up all the black (the ones pictured here are by Wolford but Penneys' tights, in my mind, are a way better use of your money). Lastly? A colour pop in the form of a warm, snuggly cardigan - this number is from Asos (at €43.75, and made of a Mohair blend) is gorgeous.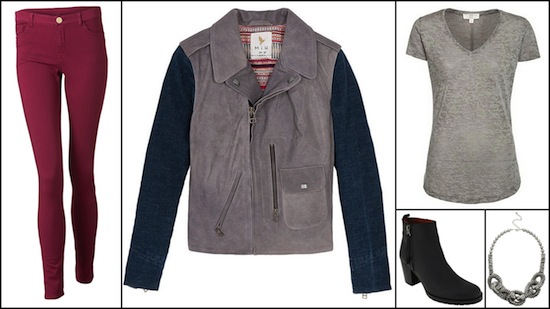 Advertised
For our second look, which I'm going to call "Saturday shopping chic", I've gone for a slightly more urban twist. The showpiece here is, of course, MiH's amazing denim-sleeved leather jacket, which will set you back a tidy £675 (some people, in case you doubt it, are still spending). If that's not your kind of thing, Topshop has a lovely (and cosy) denim alternative for just £65. I'd pair this with a really simple tee, like this €7.99 number from New Look - a really useful and lovely basic piece! I'd team them with, you guessed it, skinnies, but this time in a gorgeous raspberry red, from Penneys (€13). Lastly, because you can, I'd add a chunky neckpiece. Something a little bit standout that will add a bit of oomph to an otherwise casual ensemble. This piece from Wallis (reduced to £8.40) is a real talking point.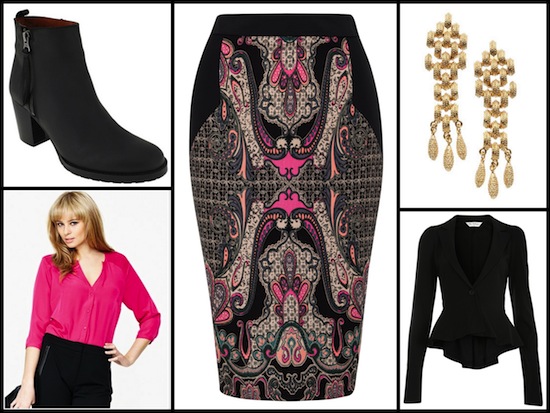 Lastly, let's dress things up a little bit and go for a skirt'n'top combo with our ankle boots! This paisley printed skirt is €47.50 from Marks & Spencer and is a great little piece that looks far more expensive than it is. It reminds me of a Peter Pilotto or Mary Katrantzou design which, in itself, is a major coup for M&S! This pink shirt, from €30 at Littlewoods Ireland, really offsets the pink pattern in the skirt and will also be a great wardrobe staple. For an added bit of "wow" factor I'd go for this jersey mix peplum jacket from Miss Selfridge (a bargain at £23) - it keeps things really sleek and streamlined, while also being very sexy. Business dinner with an attractive client? (Is that a wrong thing to say? You'd easily know I don't have clients.) Lastly, a pair of opaques and top it off with these stunning earrings from Accessorize (€13.90).