 When you think of silk scarves, you probably don't think of dildos and butt plugs; but your world is about to change. 
Berlin-based Irish Designer Ciara Rapple is launching Prickle, a collection of saucy silk scarves just in time for Valentine's day. These Irish-made silk twill scarves are Ciara's first collection and each piece features intricate, colourful patterns which include sex toys hidden in plain sight. Think yellow dildos disguised as an innocent banana design or a quirky art deco pattern adorned with inconspicuous vibrator fans and a sea of butt plugs. These scarves are so much fun and totally different to anything else I have come across on the market. They are a gorgeous alternative Valentines present or a cheeky treat for yourself.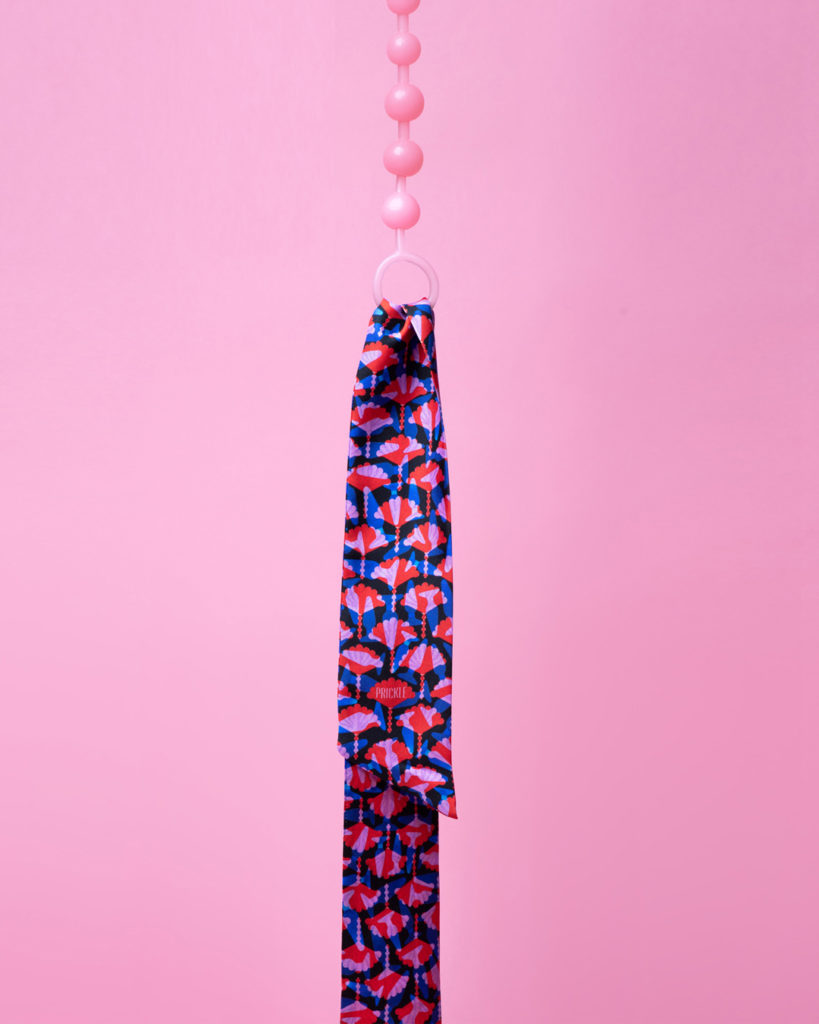 I had to chance to chat to Ciara about Prickle, and we chatted about everything from her inspiration behind the sexy collection to how her dad helps her paint sex toys! Prickle is being launched on the 6th of February at Sal studio, Temple Bar at 6 pm and will remain open until the 8th of February You can view the entire collection on Prickle.ie.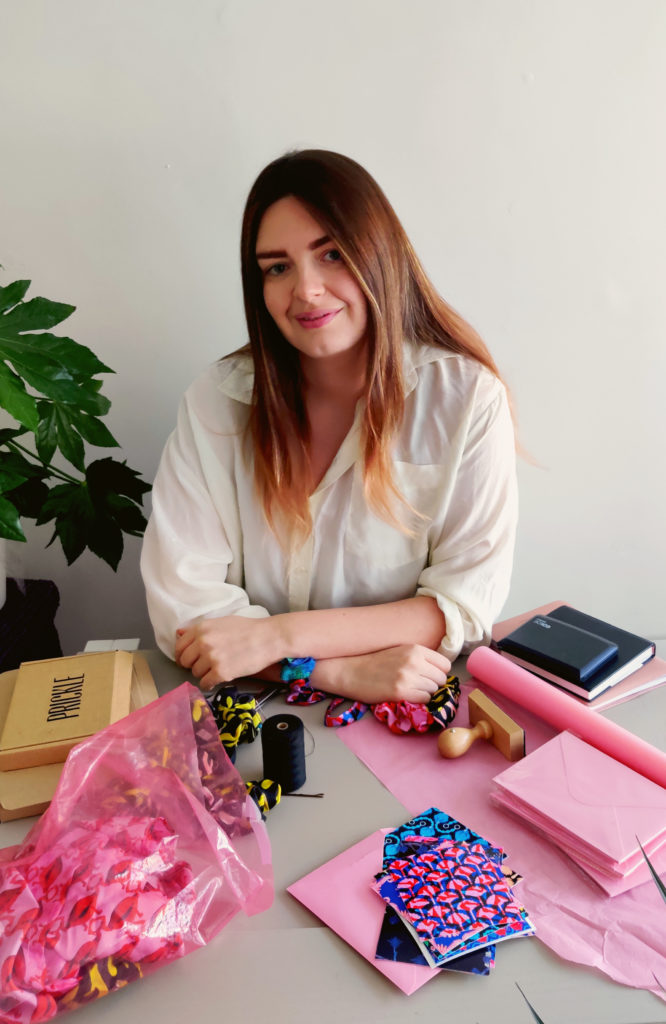 Could you give us an overview of your background and how you came to design this collection? 
I worked as an art director in Dublin for years and always created work on the side, but I found as I got busier that it got harder to make the time to create the work I wanted. I eventually decided to move to Berlin to focus on my own projects.     
Could you tell us how you came up with the concept of Prickle Scarves? 
 It was inspired by the shapes and the designs of sex toys; the design has always felt at odds with the secrecy that surrounds them. Visually they are so big and bold; it feels like they want to be seen but are hidden away.  I felt like there was a parallel between them and female sexuality and pleasure. I began to look at the shapes and layer them over each other creating new images that hide the toys in plain sight while remaining very bold and strong visually. In each print, I try to capture a different feeling of pleasure.  
Why did you hide the sex toys in plain sight on the scarves? 
The patterns became a stealthy way to make something private public. I like the idea of people being able to wear them out in public and disclose what they are if they chose to and that being a way for people to celebrate owning their sexuality in a loud way or a quiet way, whatever works for them!  
Advertised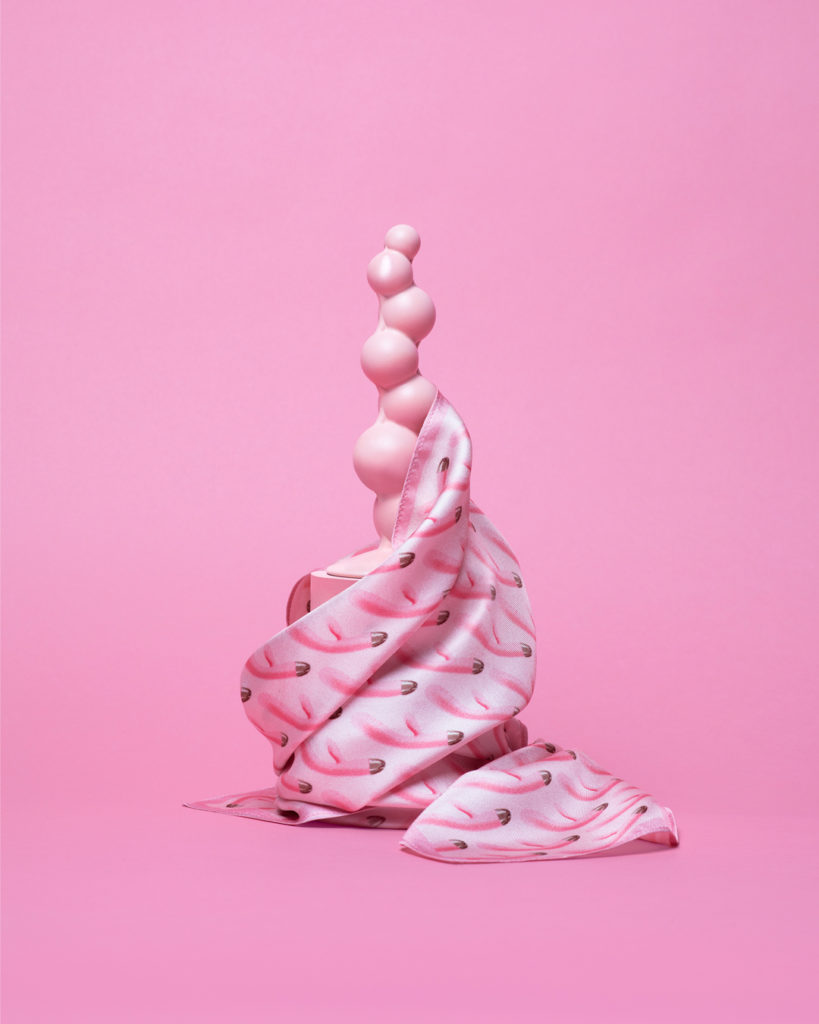 Do you think Irish people are open to owning our pleasure and sexuality yet? 
I definitely think that it is moving in that direction, I think it's being recognized as something that is an important part of our overall health and wellbeing. It can be sometimes treated as less important or frivolous, but being comfortable speaking about it is so important, so hopefully, we keep pushing it!  
Can you tell us more about the sustainability of the collection?  
I don't want to waste any fabric, so I try to find a use for everything. The old samples myself and my Mum have turned into scrunchies, which turned out really special as they manage to capture a few different patterns at once and the combination are really unexpected and fun! And then the scraps from that we have turned into the ribbon for the packaging. We are using recycled cardboard for the packaging, and I got a stamp of the Prickle logo made up to cut down on unnecessary extras and packaging. I have found that in trying to make things more sustainably, it has made elements of the branding feel a lot more personal which is excellent.  
 How did working with your Mum come about? Is it fun working with family? 
Yeh, it's gas! My Mum is incredibly crafty and the kind of person who can make anything happen so when I suggested we made the scrunchies she dove straight in! My parents have both been fantastic in the lead up to the launch; my dad has been helping me figure out how to paint sex toys without the paint cracking when they turn on, so it's been a real bonding experience!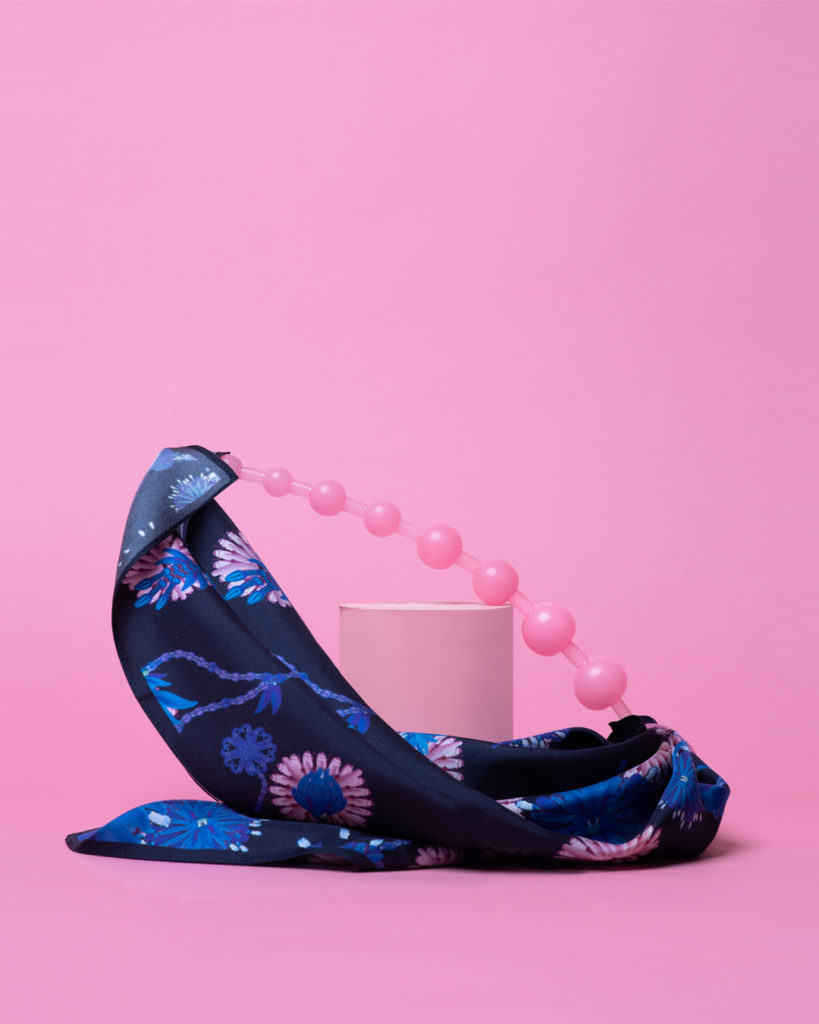 Do you have plans to expand Prickle beyond scarves in the future? 
I would love to! At the moment I am looking at creating ties and pocket squares, and then I would love to see what else I could make out of the fabric, maybe home wears and eventually ceramics.   
Tell us about the launch event and where people will be able to purchase Prickle Scarves? 
Advertised
The launch is on Thursday 6th at Sal Fine Art Studio in Temple Bar, and a limited amount of scarves will be available there and also online at Prickle.ie.