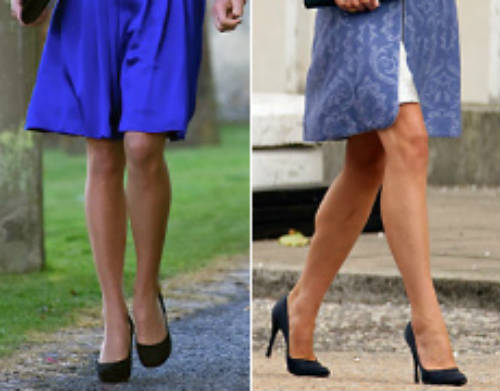 Beloved of Nora Batty and squads of baton twirlers visiting for the Paddy's Day parade, American tan tights haven't been considered fashionable since the late 80s. They may have spent most of the three decades since languishing in a style wilderness while black and coloured opaques dominated the legs of the land, but tan tights have slowly and steadily been making a comeback over the last couple of years. The lion's share of the blame/thanks for that must rest firmly at the stockinged feet of TAFKAKM (The Artist Formerly Known As Kate Middleton. I cannot believe that snappy acronym hasn't caught on yet.)
Closed-toe shoes and tights are de rigueur for royal engagements, which is why Kate's legs (a) look perfect in photos and (b) usually have that tell-tale tights sheen. Barely there, of course, but still discernible. Whether or not you agree with her standing as a global style icon, there's no denying the Kate Effect: women are so keen to emulate her look that everything she wears sells out within hours, and the sheer tan tights she favours are experiencing a definite revival. I've spotted them gracing the legs of celebridees (including Beyoncé, Cheryl Cole, and SJP) as well as ladies on the street (usually after I've enviously eyed up their even-toned gams.)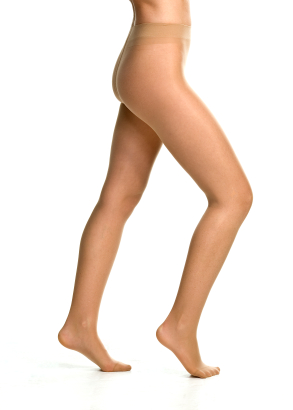 Advocates of tan tights point to this effortless "better than bare legs" effect as their greatest benefit. That's assuming that you've depilated beforehand – unlike their black opaque cousins, there's no disguising a hairy anklet under a pair of sheers – and can get into them without poking a finger through them or snagging them on a hangnail, of course. The tricky business of putting them on notwithstanding, I very much like the idea of simply cloaking my splotchy blue pins in a layer of forgiving hosiery, but here's the rub: I fecking hate tan tights with a passion I usually reserve for cucumbers, porridge, and pointless reality TV (the use of the qualifier is key; The Voice and X Factor are required viewing in my gaff.) I've tried tan tights from high-end brands and yellow pack brands and everything in between, and if they're not causing me to slip out of my shoes and the waistband's not digging into my middle, the crotch is creeping down my thighs until I'm convinced that it's hanging down around my knees.
It is impossible to hike up a pair of tights behaving thusly without accidentally putting a fist through them or looking like you have an embarrassing lady itch.
Advertised
Bad and all as this is, the very worst thing about wearing tan tights is that you look like you're wearing tan tights. Always. Because regardless of the denier involved or whether you've opted for a matte or shimmer finish, that tell-tale sheen is always evident. Don't mind producers and fashion editors bleating on about amazing new manufacturing processes and new super sheer fabrics; remain skeptical when someone tells you how natural they look and that they can't believe you're wearing tights. Unless the person complimenting you about your "invisible!" tights has misplaced their glasses, they're just being polite.
Frankly, I'd rather look a bit wintery all year round in my black opaques than look like my ma circa 1987 in a pair of tan sheers. (No offense, ma.)
Forget about the EU fiscal treaty referendum and tell me: where do you stand on this most pressing of issues?
Do you turn to tan tights in summer?