 In this week's girl crush, we're lusting after Zoe Kazan. Not yet familiar with her name? Oh you will be, she's the best.
Granddaughter of the cinematic legend that is Elia Kazan (On the Waterfront), it's clear with Zoe that the apple doesn't fall far from the tree. She's super talented. She's a great little actor with the most affable on screen presence and she's even written her own movie, Ruby Sparks, which if you're a fan of quirky little indies, you'll LOVE.
Zoe's on our radar this week as she's just starred in another little gem of a movie, opposite Daniel Radcliffe, 'What If'. You'll be hard pushed not to fall madly in love with her in it. She's a stylish one too, and it's clear the movers and shakers of the movies she's starring in are equally as captivated by her sense of style, they've carried it over to her on screen characters. Below we take a look at some of her public appearances to see what we might learn from Miss Kazan.
Here Zoe goes light on make-up (she's never one too dip her face in cake batter, mind you), leaving full focus on her gorgeous pink gúna, cinched in just enough at her tiny waistline. Zoe pairs her dress with pretty little heels and a monochrome doctor's style bag. Elegant.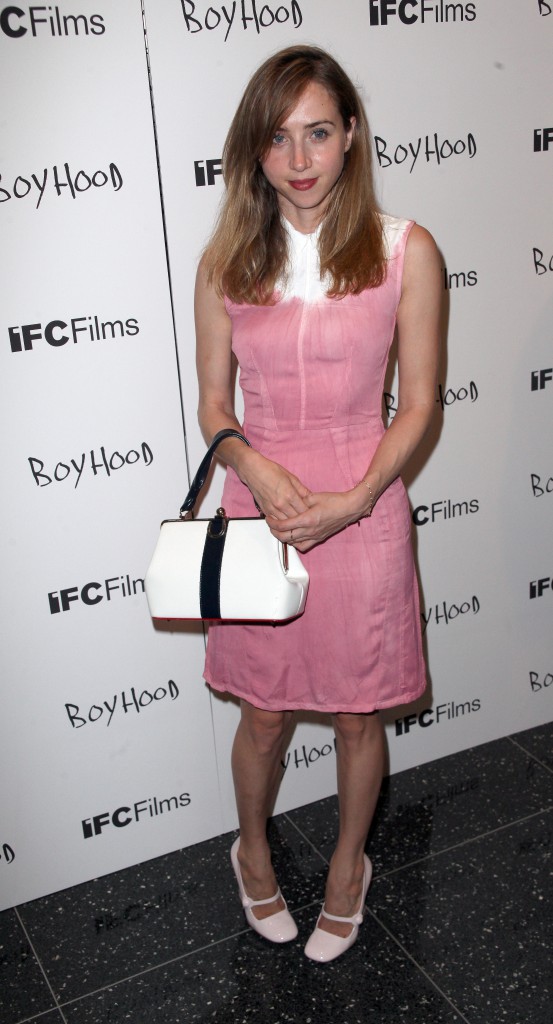 If you've been toying with the idea of taking the plunge and going red, GO FOR IT. Hair grows, you only live once and sorry but is there anything sexier? Zoe's blue eyes positively pop with the reddish, auburn tones of her hair. Off to the hair dressers we go.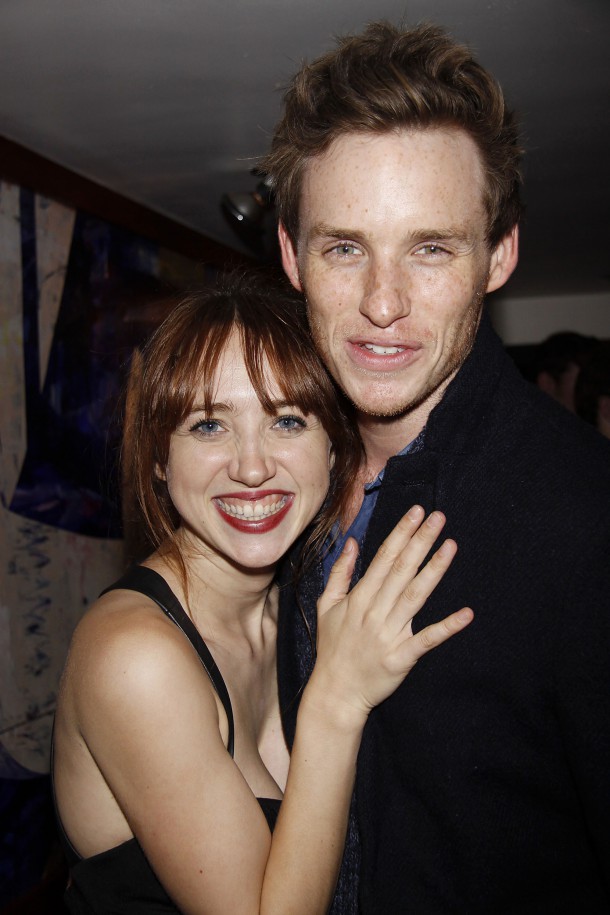 To Fringe or Not to Fringe?
Or to 'bang', as the Americans might say….Zoe is a big fan of bangs and she's right to be. If you're hair is manageable enough to maintain when cut into a fringe, you'll never feel more cute. Smokey eyes take on a whole new level of depth, when peeping out from under your gently feathered fringe.
And on another note, how beautiful is this dress? Monochrome is always a good call, as demonstrated here by Zoe. We're loving the neckline too.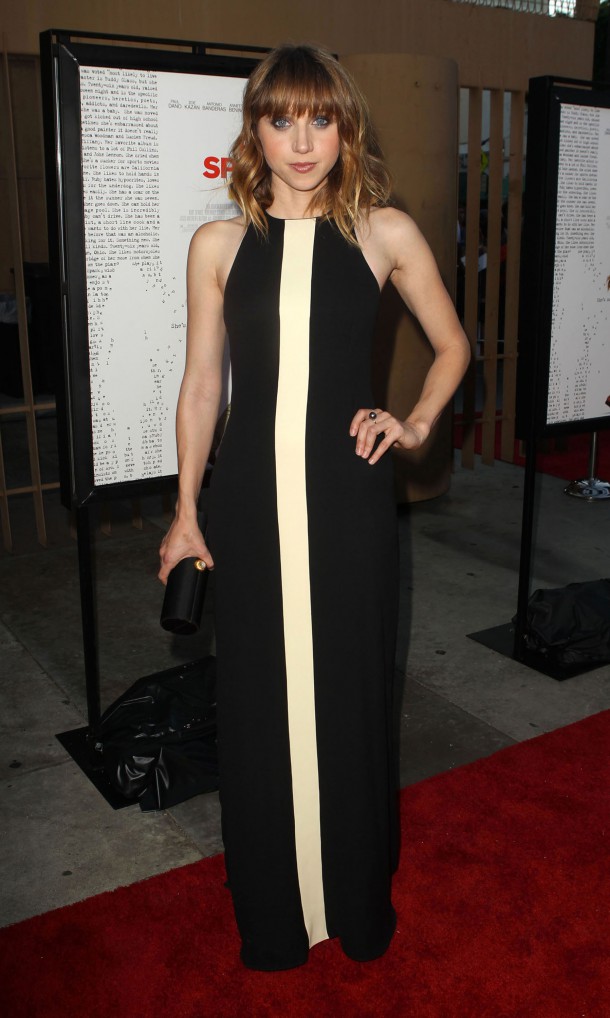 Wearing Flats - a How-To With Zoe Kazan
So you want to wear a skirt and you want to look sort of fancy but you just could not be arsed with cramming your tootsies into a pair of blister-inducing heels? We hear ya. We often complain that flats make us feel a little stumpy when worn with a skirt but they can actually work quite well.
Advertised
Here Zoe pairs a brightly patterned skirt with electric blue suede shoes. The key here is to show a good bit of leg; if the skirt's too long then you will run the risk of looking a little stumpy, regardless of how slender your pins may be.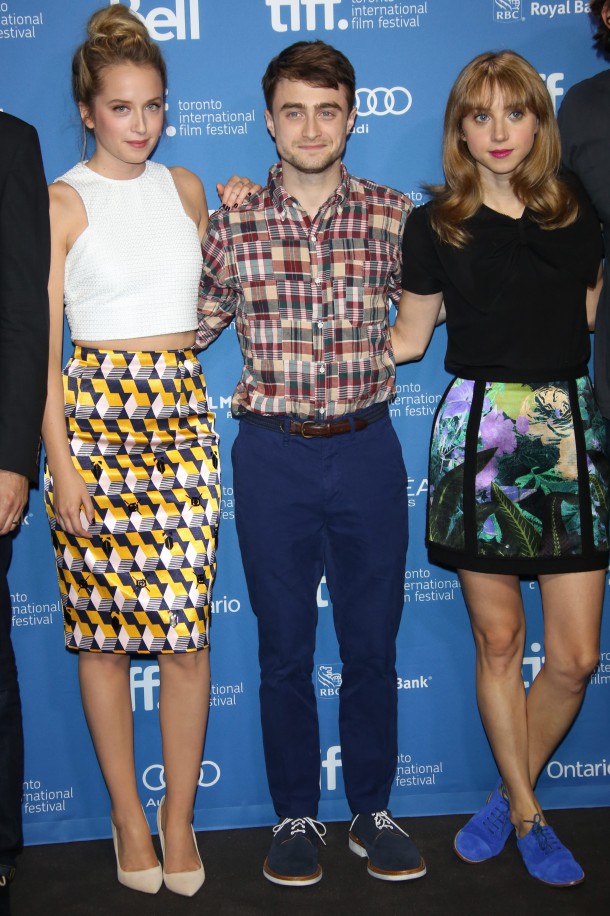 As we always say, every wardrobe needs some form of white dress for when you're feeling extra virginal and angelic. Zoe's got pretty enviable legs, so she's right to flaunt them. But she keeps things super classy with the beautiful neckline.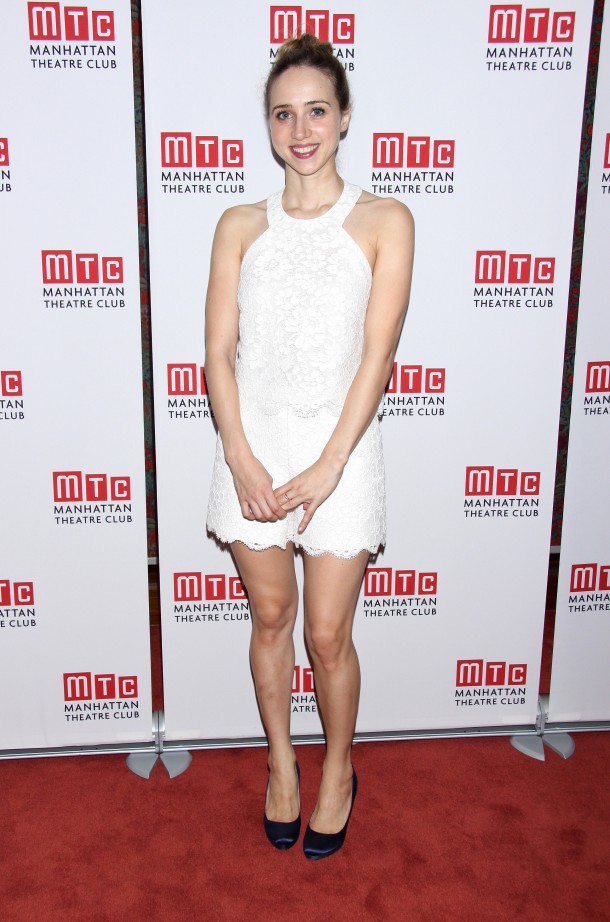 There's Always Room for Leopard Print
Here's Zoe with her boyfriend Paul Dano, who starred opposite her in 'Ruby Sparks'. You'll recognise him as that creepy guy from Prisoners too. Great actor.
Soon enough, it'll be so bloody cold, we'll be wrapping up within an inch of our lives to keep warm. But when you're off for a glamorous evening, it's hard to keep things stylish on the outside. A fur or faux fur coat will always do the trick. Wear yours with a slick of red lipstick for an added layer of Hollywood glamour.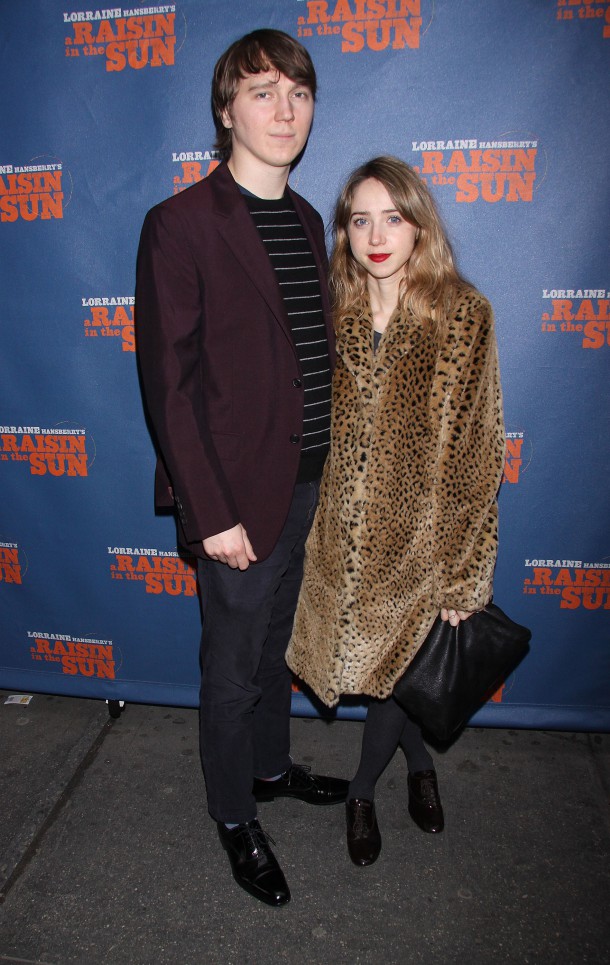 This is how to work some leather into your ensemble. Plain and simple; gorgeous.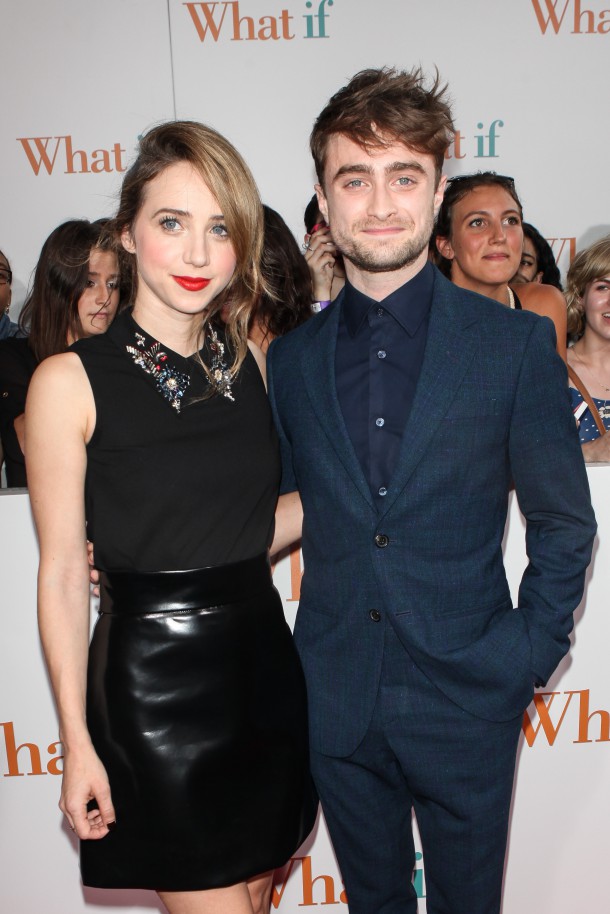 Last week I had a rant about how boring I am when it comes to my hair. Zoe's reminding me once again of the importance of having some fun with your locks. How beautiful is this plait? Easily done with two side plaits and a few pins to secure it on top of your head. Just don't clip it too far forward or you'll look like an extra from Game of Thrones. And whatever mascara Zoe's wearing here, we must find it, and we must bulk by it. Those eyes!
Advertised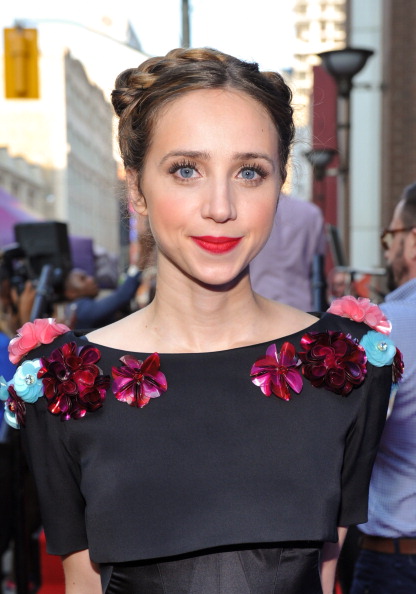 What do you think of Zoe's style? And who would you to see featured in our girl crush gushes?