 No matter what height, shape, size, or sex you are, you can wear a crop top. Whether it looks good or not is a different story.
I don't criticise people for choosing to wear a crop top, but I can't help judging how they wear it. So many people wear their crop tops the wrong way and end up not looking good. That's the simple matter of it. Crop top wearers are style risk takers - it isn't easy to wear the top that shows off your vulnerable tum-tum. It would be a shame for CTWs to fail, sartorially speaking, when they can look more fabulous than ever before.
My crop top icon is not Britney Spears or Gwen Stefani in their early 2000's heyday, but Queer Eye's Jonathon Von Ness who is the ultimate confident dresser. Here's a guy for whom wearing a pair of high-heeled boots is as normal as wearing a pair of runners. Not that he would wear any old pair of runners; they'd be carefully chosen to go with the rest of his outfit. Some might say 'he has the body' to pull off the crop top look - and he is in great shape - but it's his tenacity that makes it work. But you don't have to be hyper-fearless to look good in a top that's cropped. You just need to style it right.
The Belly Debate
I think it's fair to say that most people who want to wear a crop top but don't, don't because they are self-conscious of their mid-riff region. Weren't crop tops designed to show off perfect abs? Maybe, but they are also sometimes the only type of top that will work with a certain type of outfit.
If you do want to put your six-pack on display, by all means, wear the tightest, highest crop top you can find. But make sure your bottom half doesn't let you down. This isn't 1998 so definitely don't wear crotch-skimming pants. It's just too much. Touch on the '90s trend with straight-leg jeans instead. Wear a crop top-skirt co-ord á la Kim Kardashian - same colour, tight top, pencil skirt - if you're feeling particularly body proud. Change your shoes to suit the occasion; runners for day, high barely-there sandals for occasions or night.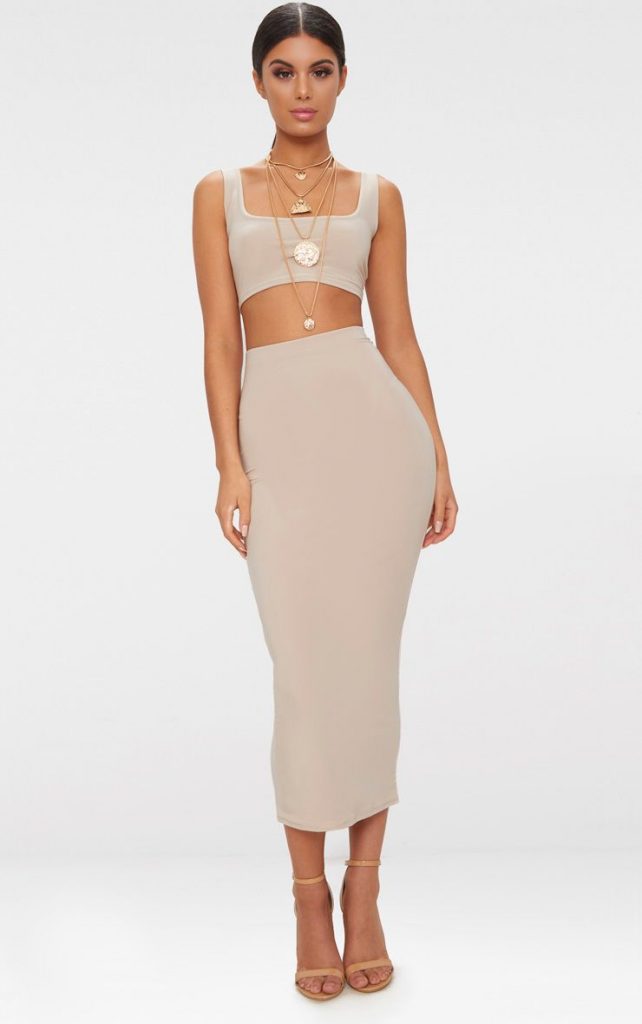 PrettyLittleThing Stone Slinky Round Neck Sleeveless Crop Top €12 / Stone Slinky Longline Midaxi Skirt €22
If you're not comfortable with walking around essentially naked but with clothes on, you can still wear a crop top and look hawt. Remember, crop tops aren't just tight 'n' high. They can be t-shirt style, like the ones they wore in Fame. They can, in fact, be classy.
Ashlee Simpson wore a full skirt and low crop top to her wedding to Evan Ross.
Advertised
The definitive way to wear a crop top without actually showing off much mid-riff is to wear with high-waisted bottoms. Jeans, skirts or any length and style, shorts - anything, as long as they sit well over the hips. After that, just match your crop top. I would advise to go for one with a bit of space; let there be some air between the material and the skin. This gives a nice, easy breezy feel, but it also makes it easier to wear. You won't have to think about it rolling up or expanding after dinner.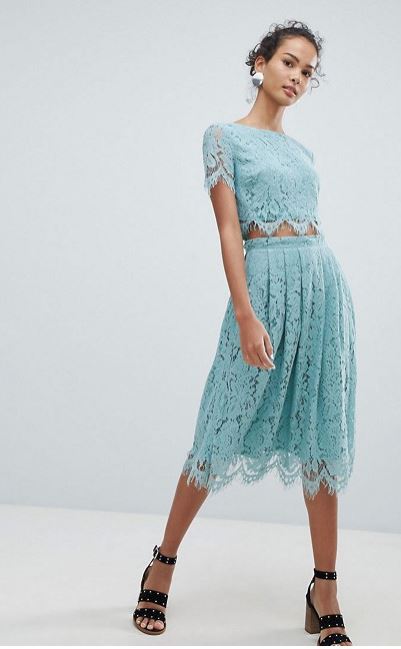 New Look Lace Crop Co-Ord Top €27.64 /  Lace Co-Ord Midi Skirt €34.55
I don't think there's any point in wearing something that doesn't suit you. Wearing something that doesn't flatter is a waste of time and a waste of another good outfit opportunity. But sometimes a supposedly tricky trend like the crop top can surprise you - it turns out that this style can suit all.
If you want any style advice or ideas for any more 'How to Wears', just drop a line in the comments!
Topshop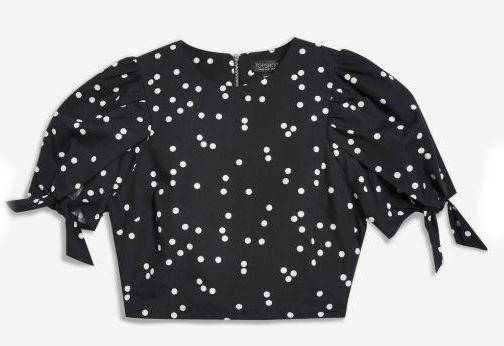 Zara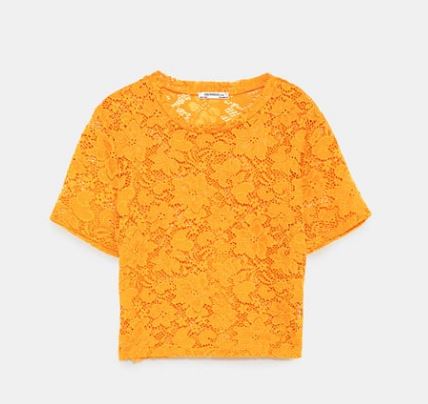 Advertised